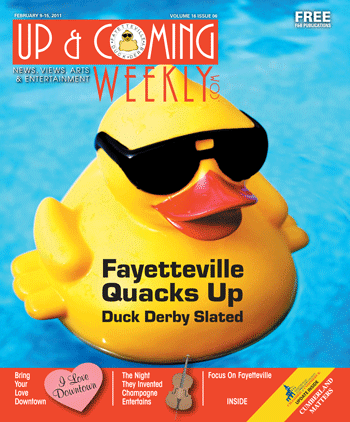 There's the Kentucky Derby and the Boy Scouts have the Pinewood Derby, but a Duck Derby? You betcha — and you're invited to participate.
The Fayetteville Duck Derby has been in the making for well over a year. It all started with Fayetteville Urban Ministry. The organization was looking for a fundraising idea and wanted to do something different. A little bit of research and imagination — and a lot of hard work later, event co-chairs Katie Crenshaw and Aurora Alexander are ready to introduce Quacky and the whole Duck Derby experience to the community.
They've made the rounds, gathered the support of local businesses and several fellow nonprofi ts and now it is time to share their vision and watch the fun begin!
You might be asking yourself what exactly is a Duck Derby? And we can understand that, because we asked the same question.
The Duck Derby will take place on May 7 at Campbellton Landing. If you are on hand that day, you will see a rare site. Between 5,000 and 15,000 yellow rubber ducks will be launched into the Cape Fear River in a race to support Fayetteville Urban Ministry and many other local non-profi ts.
To make it to the river, a duck needs to be adopted. Anyone can adopt a duck, it costs $5 per duck, less if you buy a package of fi ve or more.
"The actual duck drop is going to be really cool," said Crenshaw. "They'll drop off the bridge by Campbellton Landing and the end is right about where the railroad trestle begins. We've timed it and that is about a 10 minute race."
The prizes are impressive — a 2011 Toyota Camry generously donated by Rick Hendrick Toyota, a Las Vegas getaway, a Myrtle Beach escape and a catered Cape Fear River cruise.
When you purchase a duck, your name will be entered onto a tag. May 5 is the tagging party. This is where the thousands of ducks that have been purchased by caring members of the community will be assigned numbers and prepped for the big race. Crenshaw is hoping for plenty of volunteers, since they are expecting a sizable amount of work.
"We have a minimum 5,000 ducks to tag," said Crenshaw. "Our goal is much higher than that though, and they all have to be tagged."
While Fayetteville Urban Ministry is the lead nonprofi t for this event, duck sponsors can help other nonprofi ts even if they only adopt one duck.
Visit the website, and click on "Teams." There will be a list of nonprofi t organizations that are participating in this event. Choose your team, then adopt a duck, or two or three — or more.
"Choose your team and $1 for every duck you purchase will go to that nonprofi t," said Crenshaw. "The rest will go to Fayetteville Urban Ministry. It is no cost to the other nonprofi ts to sign on. We have such a good working relationships with these other organizations and we are all working together to better the community. We just wanted to share a little bit with them. We thought 'Let's all combine our efforts. Let's all work together.'"
Organizers timed the event to coincide with the month-long celebration of Days of Glory, which occurs in May. Throughout the month of May, local organizations put together events honoring and celebrating Fayetteville's military heritage with ceremonies, art exhibits, sport and charity events and much more.
"This is part of the 31 day salute, and it is just so special because so many people have come together to support this in the community," noted Crenshaw. "It is so much more than a one person event."
While the actual race is short, Crenshaw and Alexander are planning an entire days worth of fun on the big day. From 1-6 p.m., Campbellton Landing will be fi lled with music, kid-friendly activities and educational resources.
"It will be an opportunity for all our non profi ts to share their mission, if they choose. We'll have entertainment on the stage the entire day, too," said Crenshaw. "We have Rattler Jake coming. He talks about different snakes and will educate the children. We have riverboat tours. Basically, it's a free event with tons for the kids to do."
May might be a long time away, but there are other things you can do now to support the Duck Derby.
"Just like the Kentucky Derby has the Mint Julep, we are looking for that perfect signature drink for the Duck Derby, and an appetizer, too." said Crenshaw. "We've asked our local restaurants and the community to be part of this and help us with that."
Eleven local restaurants (Huske Hardware House, The Hilltop House, Pierro's Italian Bistro, Morgan's Chop House, It'z Entertainment City, Scrub Oaks, Circa 1800, Luigi's, Riverside Steak & Oyster Bar, Latitude 35 Bar & Grill and Chris's Steak House) are pulling out all the stops in a competition to see who can create the signature cocktail and appetizer for this event. From Feb. 11 until May 6, the community is invited to visit these restaurants, sample their creations and then vote for their favorite at www.fayettevilleduckderby.com. The winner will be announced at the derby. The possibilities are incredible, and the competition is sure to be intense, so don't miss out on a chance have your say.
May 7 will be here in no time, so you need to buy a duck, taste an appetizer, cast your vote and sign up to help. To do all of this, visit www.www. fayettevilleduckderby.com.
Middle Right: Quacky the duck stands by the Toyota Camry that is the grand prize in
the Duck Derby. Bottom Left: Tom Costello, of Hendrick Toyota gives Quacky a hug.