People use words like energetic, adventurous, outgoing and strong-willed to describe Zach Grullon. A graduate of Jack Britt High School, Grullon dreamed of serving in the United States military and considered a tandem jump with the U.S. Army Golden Knights a dream come true.
Grullon passed away on Jan. 28, 2012 after battling a rare form of cancer, Fibrolamellar Hepatocellular Carcinoma, for more than two years. The disease, which primarily attacks teens and young adults, is a rare liver cancer. Annually, 200 young adults die from this disease each year. Some 72,000 teens and young adults are diagnosed with various forms of cancer every year, according to a 2010 Wall Street Journal article, of that number, 10,000 die. Until 2008, little research was done in the area of Fibrolamellar because it is so rare, but that changed when Tucker Davis, the founder of the Firbrolamellar Cancer Foundation, was diagnosed with the disease.
Davis founded the foundation with the hope of finding a cure for this often fatal disease. The foundation's mission is threefold: Find a cure and treatment options, raise awareness of the disease and bring attention to teen and young adult cancers.
Grullon's parents, Kevin and Shawn, local realtors want to contribute to that mission in their son's memory. Zach Grullon was diagnosed with FHC in March 2010. He had been dealing with severe stomach pain and nausea for a couple of months. Friends and family didn't think much of the pain because Zach worked out so hard. After numerous test and scans, a grapefruit-sized tumor was found on his liver. In April 2010, he had a liver resection, but the cancer had already spread to his lymph nodes. Zach began an intensive round of chemotherapy, but he didn't let it stop the way he lived his life. He continued to work out and play sports. And, in August 2010, just a couple of months after his high-school graduation, he jumped with the Golden Knights.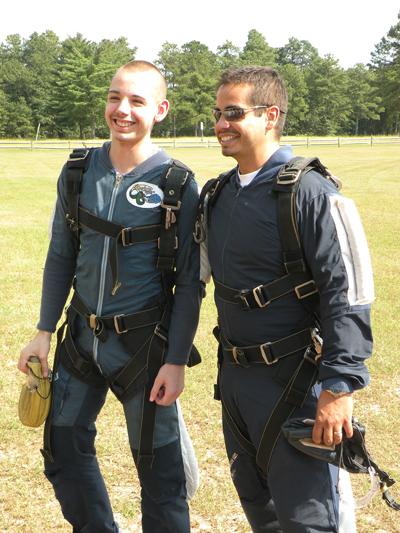 The memory of that jump inspired his parents to host a Free Fall to Fight Cancer on Saturday, June 2 from 9 a.m. to 5 p.m. at the Raeford Parachute Center. The event will give individuals the opportunity to perform a tandem jump with former and off-duty members of the Golden Knights who are volunteering for the cause. For a $330 donation, individuals will get to jump with the world-famous team and receive a video and photos of their jump to share with friends and family. Those interested in participating in the fundraiser must be at least 18 years of age and weigh less than 235 pounds.
In addition to the jumps, there will be raffles for great prizes, a silent auction and fund games for children. Food and beverages will also be available for purchase.
A Cruise to Fight Cancer, featuring classic cars, will drive a route from Spec Ops Motorsports in Hope Mills around Fayetteville. Students from Paul Mitchell School will be on hand to give manicures and the Renaissance Day Spa will have a tent as well. All proceeds from the event will go directly to the Firbrolamellar Cancer Foundation.
To register or for more information, contact Kevin and Shawn Grullon at 910-257-3027 or 910-229-1100 or email grullonteam@gmail.com.
Photo: Zach Grullon and his father, Kevin, at his jump in August 2010. Zach died earlier this year after a two-year battle with cancer.