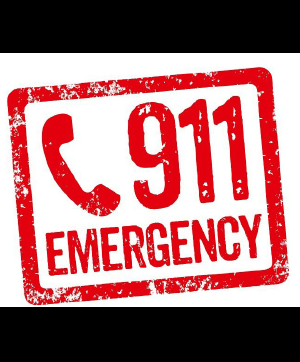 A panel of city and county elected officials wants to get a proposed consolidated emergency 911 service off dead center. The ill-defined plan has languished for many years mainly because of turf issues and cost. But now, it appears local governments want to get the plan off the shelf. "I'd like to get the ball rolling before I leave office," said veteran County Commissioner Kenneth Edge. He is not seeking re-election and his term expires in December.
The City-County Liaison Committee is unanimously recommending that a joint subcommittee be established to work out details of merging local emergency 911 operations. The county's call center is located in the law enforcement building. The city's emergency dispatch center is located in city hall. They work closely together, but EMS calls in the city must be transferred to the county. They use separate, mostly incompatible two-way radio systems which would be expensive to replace. County Commissioner Jimmy Keefe pointed out that rapidly changing technologies will have to be dealt with.
The three city representatives indicated there is a willingness among council members to move forward with consolidation.
"Anytime we can share services that benefit the citizens, I think there's going to be interest," Committee Chairman Mitch Colvin said. He, Mayor Nat Robertson and Councilman Jim Arp are the city's representatives on the liaison committee. County Commission Chairman Marshall Faircloth and Commissioner Glen Adams are also members along with Edge.
Other considerations for merging the systems include resolving wage differences for employees and city/county cost sharing, as well as site acquisition and construction of a building to house the equipment for an operations center of more than 100 employees. A hardened 40 thousand square-foot building that meets FEMA threat assessment standards would be needed to protect against natural and manmade forces, according to Schrader Group Architect Tom Forsberg. He is among the consultants hired by the county to research consolidation. The cost of such a building hasn't been determined but three rural sites recommended for the facility could cost upwards of $30 million. State and federal grants are available through the Department of Homeland Security and other sources. But, local governments will likely have to share the cost which is something neither agency has discussed in detail.
It's recommended that joint 911 operations be managed by an executive steering committee appointed by county commissioners and city council. There is no timetable for the subcommittee to be named and get to work. Commissioner Edge noted the project has been kicked around for years and isn't likely to get off the ground soon.