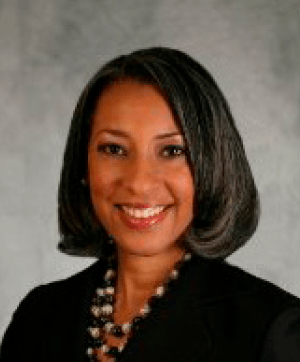 The Fayetteville Ladies Power Lunch inspires, educates, empowers and celebrates the lionesses in our community by bringing women together in a quarterly forum filled with opportunities to network, learn and shop all under one roof. At the November event, FLPL welcomes Dr. Kimberly Jeffries Leonard, president and CEO of Envision Consulting, LLC and the national vice president of The Links, Incorporated, as the keynote speaker.
A graduate of Fayetteville State University with a degree in Psychology, Dr. Leonard continued her education at North Carolina Central University and Howard University, with a master's degree in science and a Ph.D. in Psychology, respectively. Her career covers working as a senior research scientist at MayaTech Corporation where she conducted and presented research involving the substance abuse treatment of African-American adolescents followed by a brief period at the District of Columbia Department of Health with the Addiction Recovery Prevention Administration. Leonard then served as the Chief Operating Officer at the District of Columbia Department of Health, later moving to Envision Consulting, LLC where she currently serves as the president and CEO.
Serving as the national vice president of The Links, Incorporated, Leonard commits to giving back to her community in the areas of services to youth, the arts, national trends and services, and health and human services, benefitting African-Americans and people of African ancestry. Founded in 1946, The Links, Incorporated, a non-profit, international organization, has chapters in 42 states with more than 13,000 members.
Before and after the keynote speech, Fayetteville Ladies Power Lunch attendees have many opportunities to get a head start on their shopping lists with the Shopportunity Expo. Vendors, representing small and medium-sized businesses, bring an array of goods and services to the Fayetteville Ladies Power Lunch. To date, vendors include representatives from 6 Figure Girl Boss, Avon, Design By Training, LLC, Isagenix, Jamberry, Lilla Rose, LuLaRoe, Mary Kay, McKee Homes, McTails, Park Lane Jewelry, Perfectly Posh, Pure Romance, Ramada Plaza, Renaissance Spa, Rodan + Fields Dermatology, Small Frye Photography, Stella and Dot, Style Dots, Terry's Originals, Thirty-One, Usborne Books & More, Victoria's Esthetics and Ways to Wellness.
The Fayetteville Ladies Power Lunch offers Platinum, Gold, Silver and Hostess Table sponsorship packages. The sponsors for November are Biz Card Express of Fayetteville; The UPS Store in Westwood; Rocket Fizz Soda Pop and Candy Shop; Omni Plaza Movies, Games, and Golf; and Carolina Selfie Stand. The power lunch organizers appreciate the support from these businesses and welcome more companies to recognize the women who make a difference in the community.
Support of the Fayetteville Ladies Power Lunch, now in its sixth year, benefits the children and youth of Cumberland County schools. The Kidsville News Literacy and Education Foundation receives a portion of the proceeds. Kidsville News! is a monthly newspaper distributed at no charge to schools to support literacy in grades K -6.
Find out more about the Fayetteville Ladies Power Lunch at http://www.fayettevilleladiespowerlunch.com/index.html