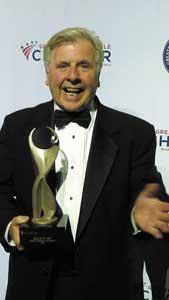 New Chamber CEO
The Greater Fayetteville Chamber has named Christine Michaels its new president and chief executive officer. Michaels has 18 years of association management experience plus 10 years in journalism, marketing, and public relations. She has a B.S. in Public Relations from Empire State College in New York. Michaels has served as the chief executive of two chambers both of which have achieved the highest ranking of 5-stars from the U.S. Chamber of Commerce. Michaels comes to Fayetteville from Brandon, Florida, where she served as Executive Director of the Greater Brandon Chamber. "With Christine's vast experience in successfully running Chambers, we look forward to new ideas and growth for our members," said Kitti Jo Finch, Chair of the Chamber.
Publisher Bill Bowman wins Athena Award
Bill Bowman, founder and publisher of Up & Coming Weekly, was honored by the Greater Fayetteville Chamber at its 2017 Annual Awards Dinner. Bowman received the Athena Leadership Award, which is conferred on "a woman or man who demonstrates professional excellence and who encourages women to achieve their full leadership potential," the chamber said. In Greek Mythology, Athena was the goddess of intellect, wisdom, craft and war. She was known for her calm temperament and was noted to have only fought for just reasons, and would not fight without a stellar purpose. Bowman has nurtured and professionally supported and endorsed programs for women engaged in local business and community leadership. He publishes Fayetteville's Women's View each month while sponsoring and hosting a weekly women's business networking group called B.U.G.s (Between Us Girls). He also sponsors the quarterly Fayetteville Ladies Power Lunch that is held at the Ramada Plaza. In its acknowledgement of Bowman's commitment, the chamber said, "These three ventures were struggling, unable to maintain and scale the opportunities before them. Today all three woman-focused organizations are thriving." In his acceptance speech, Bowman acknowledged that his staff is made up of almost exclusively women.
2017 Cumberland County Fair
This year's Cumberland County Fair will be held Sept 1-10. It begins on Friday before Labor Day and will run for ten days. The theme for this year's fair is "Country Days - American Ways." For the first time in many years, fair goers in Fayetteville and the Cape Fear Region will have something to do over the Labor Day weekend by attending the fair. Returning for the second year will be Close Encounters of the Exotic Kind, a lions and tigers show. There will be comedy and magic shows featuring FARMily Feud and a Survivor Family Game Show. The fair will again offer free admission on the opening night of the fair. Other promotions include a $15 one-price admission on Monday through Thursday nights that will permit admission and unlimited carnival rides.
More Cold Case Arrests
The Fayetteville Police Department's Cold Case Sexual Assault Unit has charged a suspect in two 22-year-old rape investigations. One of the incidents occurred on April 28, 1995 and the other on September 19 of the same year. The subject was arrested in 1995, but he had fled the state and extradition was not approved. Following a recent review of these cases by the Cumberland County District Attorney's Office his extradition was approved. Louis Lane III, 59, of Milwaukee, Wisc. was apprehended in Milwaukee with the assistance of the U.S. Marshal's Violent Fugitive Task Force. Cumberland County Sheriff's Deputies returned Lane to Cumberland County. He was charged with 1st degree rape, kidnapping, 2nd degree rape, and 2nd degree sex offense. Lane is being held in the Cumberland County Detention Center on an $800,000 secured bond.