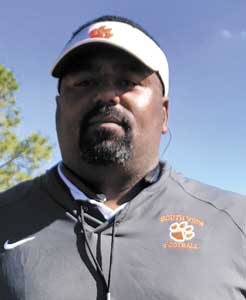 The rebound at South View continued last season during Rodney Brewington's second season as the Tigers' head football coach. South View topped the .500 mark with a 7-5 record and earned the Mid-South 4-A Conference's third qualifying berth in the N.C. High School Athletic Association playoffs.
But the 2017 Tigers, as well as all of the Cumberland County schools, face new challenges. Realignment puts South View in the new Patriot 4-A/3-A Conference that mixes members of the old Mid-South and the defunct Cape Fear Valley 3-A.
Overhills, Pine Forest and South View will be the lone 4-A schools in a league that will include Cape Fear, Douglas Byrd, E.E. Smith, Gray's Creek, Terry Sanford and Westover. Cape Fear and Smith will be newcomers to the 3-A ranks next season.
"We've been stressing to our kids we've got to work as hard as any team in the conference,'' Brewington said. "The standard is high and we want to find our place in it.''
Coaches had two choices this year on how to handle the spring workout session.
Brewington opted for the one that let him meet with up to 21 players per day and hold practice in April.
"Doing the 21 players allows us to get new kids that we feel can impact our program hands-on training,'' he said. "Really it's just understanding the plays and the formations.''
At the end of the workouts, Brewington wants his players to know all their offensive formations, base plays and check-offs. On defense, he wants them to know the base defense and how to react to the different formations they'll see this season.
Jaquan Span, who will be a senior linebacker and running back this fall, said the team is focusing on unity this spring, along with staying on top of work in the classroom.
"I don't feel there's a team we can't beat unless we don't feel like playing,'' Span said as he looked to the season ahead. "I want to be able to earn my team's respect and trust.
"We've got to trust ourselves first. If we trust ourselves, it will be able to work.''