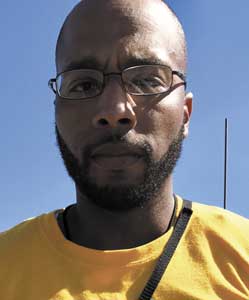 There's something old in Brian Randolph's world these days, but everything else is definitely something new.
The old part is Randolph is back at Jack Britt High School as a teacher and coach, but not like he used to be. Instead of a football assistant, he's head of the program for the Buccaneers.
He also finds himself in the unenviable role of trying to rebound from the school's worst record ever and only the second losing record since Britt opened its doors in 2000, a mark of 3-8 that included failing to qualify for the state 4-AA playoffs.
Add to that the challenge of joining Cumberland County rival Seventy-First and moving into the newly-named Sandhills Athletic Conference with traditional powers Scotland, Richmond Senior and Pinecrest, and you can see Randolph has a full plate.
But he's borrowing from the lessons learned from his high school coach, Douglas Byrd's multiple hall of famer Bob Paroli.
"One of the big things he preached was focusing on the details and being tough,'' Randolph said. "The game is won in the trenches. If you make practice harder than the games, the games will be easy.''
Outgoing Jack Britt coach Brian Rimpf had to declare in December whether Britt would choose to hold spring practice in late May with the full squad or be limited to 21 players per day and hold workouts in April. He chose the latter.
Randolph isn't a big fan of the plan because football players taking part in spring sports can't practice football, but he's making it work. "We want to get morale back and implement our base offense and defense,'' he said. "Once summer starts we can do finer detail things.''
C.J. Davis, a wide receiver who'll be a senior in the fall, said things have already changed under Randolph.
"We are more disciplined,'' he said. "We're trying to forget last year and move on. We're expecting bigger and better things. We don't plan on going 3-8 again.''
Davis said the primary goal in the spring workouts is to learn the new offense. "If we learn the playbook, get the plays down, get them running smoothly, we'll do just fine and practice will be easier,'' he said.
He said the team is excited about the move into the new conference. "It's going to be a real good test we've been put into,'' he said. He expects the Buccaneers will be competitive if they can keep their composure and
remain disciplined.
Randolph is also looking forward and not letting the 3-8 record hang like an albatross from the neck of his new team. "A 3-8 season does not destroy a program,'' Randolph said. "As my old coach used to say, 'Let the chips fall where they may.' ''