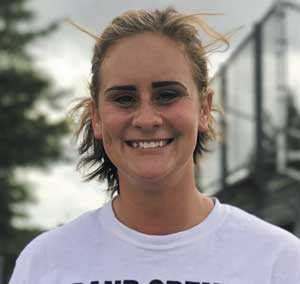 There were questions at the start of the season for both the Cape Fear baseball and softball teams.
For baseball, they came from an early season knee injury to star pitcher Gavin Williams. For softball, it was the graduation of star pitcher Aubrey Reep and no experience waiting in the wings to replace her.
To say both questions have been answered is an understatement. Williams returned to the mound on his surgically repaired knee in April and has been mowing down the competition. Cape Fear's softball team rallied around young pitcher MacKenzie Peters by mounting the best offense the Colts have seen during their recent run of state 4-A playoff success.
The result is baseball shared the Mid-South 4-A title with Jack Britt, and softball took a 20-0 record into the Mid-South tournament. Both teams are optimistic and poised to begin pursuit of N.C. High School Athletic Association titles as state playoffs in both sports open this week.
After a scrimmage with Midway in February, Cape Fear baseball coach Wendell Smith was shocked to find Williams collapsed on the ground near the team bus.
"He had said something to me about his knee locking up in P.E., but I didn't think much about it,'' Smith said. The diagnosis was a torn meniscus in his Williams' left knee. He underwent surgery on March 1st, but the prognosis was good, and after 30 days of rehabbing he returned to play.
"I thought it would affect my pitching, but it hasn't done any of that,'' Williams said. That could be because he's been getting up as early as 5:30 a.m. to do strength work focusing on his legs and back.
"What the doctor told him to do after the operation he did to strengthen it,'' Smith said. "That's self-discipline.''
Williams began drawing attention with his improved velocity last summer. This spring he's been tracked by more radar guns at his games than a speeding car on Interstate 95.
Entering last week's Mid-South tournament, Smith was 3-0 with 48 strikeouts in 23.2 innings. He had yet to allow an earned run this season.
"I changed my mechanics from last year,'' he said, "where I stood on the mound, release point, balance point, stuff like that.''
Smith said the Colts don't have to rely solely on Williams in the playoffs. "Our philosophy is if we've got good enough pitching and throw strikes, we've got a chance to win,'' he said. "We can find a way to score runs.''
Runs have been a big feature of this year's Cape Fear softball team, and Bri Bryant is one of the reasons. Through May 1st she leads Cumberland County both in batting and RBIs with a .667 average and 47 runs driven in.
"This year she's been totally a power hitter,'' said Cape Fear co-coach Jeff McPhail. "She stepped up her game, bat-wise.''
Bryant said that was her goal in the offseason. "My past three years I felt I tried too hard,'' she said. "I tried to see it and hit it wherever the pitch is pitched.''
She praised Peters for stepping in at pitcher as a 13-year-old with no varsity experience. "We've tried to have her back, pitching and defense-wise,'' Bryant said. "A lot of people didn't see us being in the position we're in. We've tried to blow everybody's mind.''McPhail hopes the team got some good experience for the playoffs when Cape Fear added games late this year with strong opponents Marlboro Academy and Whiteville.
"When you get to the playoffs you've got to have luck on your side,'' he said. "We're hitting the ball better than we have in the last two or three years, and that's going to be our key.''