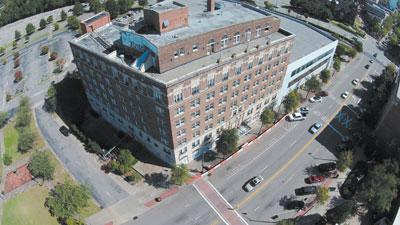 Skeptics have yet to be convinced, but talk of minor league baseball in downtown Fayetteville has already attracted interest in the financial market. PCH Holdings, LLC, expects final approval of a $9 million loan commitment from the U.S. Department of Housing and Urban Development any day now. The firm's renovation of the former Prince Charles Hotel into 62 apartments is expected to cost $15 million.
"Conversations with banks, which were initially disappointing, have started to be more productive as the amount of confidence in investing in downtown Fayetteville has increased," said PCH Development Manager Jordan Jones. He added:
"We have received several term sheets from bank lenders that have a strong interest in providing us a loan. We have also secured all of our historic tax credit investors as well. Essentially, funding for the Prince Charles Hotel is secured, and we look forward to starting the project this fall."
That puts the enterprise a few months behind schedule. Ironically, Jones's grandfather built the hotel, which opened in 1923. The $33 million stadium and the millions to renovate the Prince Charles represent about one-half the financial developments planned for the remaining two acres of property adjacent to the ballpark. A four-story hotel topped with a four-story parking garage will also anchor the Hay Street project. A pedestrian patio and main gates will showcase the stadium entrance between the two buildings, according to design plans recently approved by the City of Fayetteville and Houston Astros Baseball Club.
Lafayette Park Handicapped Accessibility
Officially, the park on Green Street in the heart of downtown Fayetteville is called "Cross Creek Park." The park was badly damaged by the flood when Cross Creek overtopped its banks during Hurricane Matthew. Repairs have been a long time coming, but "they've been worth the wait," said Recreation and Parks Director Michael Gibson. Last week, FEMA approved reimbursement for the cost of replacing the pedestrian bridge that stretches from the Green Street fountain to the statue of Lafayette. "The FEMA award will cover up to $200,000," Gibson said.
The original bridge was built more than 30 years ago. The new bridge will eliminate steps and will be handicapped-accessible. New footings and pilings will secure the bridge where it crosses the creek. Design work is underway.
New Fire Station
The City of Fayetteville is about to replace an aging fire station with a brand new $3 million station house.
The former Lafayette Village Fire Station on Hope Mills Road became the Fayetteville Fire Department's Station 12 following the annexation of the area. "The new Fire Station 12 is a needed addition for our department," Fire Chief Ben Major said.
The station was built 60 years ago and has become structurally unsound. It likely would have cost more to bring the old building up to standards than replace it, said FFD spokesman Battalion Chief Michael Martin. "It was easier to build new with land conveyed by the school system at no direct cost," Martin said. The Cumberland County School Board donated property in front of J.W. Coon Elementary School, 905 Hope Mills Rd., to the city for the new station. Construction is underway.
Workforce Development Honors
The Cumberland County Workforce Development Board presented awards to program participants and partners during its annual recognition luncheon held at Cape Fear Botanical Garden. Workforce
Development offers programs for youth, adults and dislocated workers through the Cumberland County NCWorks Career Center.
The objectives are to increase employment and training opportunities and to enhance participants' productivity and competitiveness in the workplace.
Honorees included: Outstanding Young Adults – Tiquell Allbrooks, William Johnson and Daniel Thompson; Outstanding Adults – Christine Diamond, Elaine Johnson and Marion Person; Outstanding Employer – Mears Construction Company; Outstanding Workforce Development Partnerships – Nursing and Allied Career Pathway, Cumberland County Public Library and Cumberland County Schools.
Hot Weather Emergency Funds
The Salvation Army is accepting Energy Crisis Intervention Program applications from individuals and families who are experiencing or in danger of a health emergency.
Household assistance with cooling needs is available on a first-come, first-served basis. The Cumberland County Department of Social Services administers the program, but applications are made to the Salvation Army at 1047 Southern Ave. in Fayetteville, from 8 a.m. to 4:30 p.m., Monday through Friday. Funds will be available until they are exhausted or through the end of the State's fiscal year.
Household benefits may vary depending on the amount needed to alleviate the crisis but cannot exceed $600. Individual identification and crisis verification must be fully documented. A household is considered in crisis if a resident experiences or is in danger of experiencing a life-threatening or healthrelated weather emergency. More information is available at (910) 307-0359.