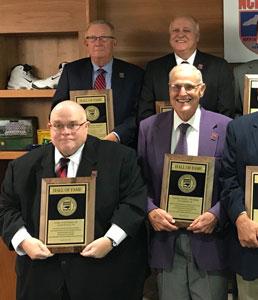 Every year, the North Carolina High School Athletic Association inducts new members to the NCHSAA Hall of Fame. This year, a group of eight were chosen, including local sports writer Earl Vaughan Jr. The NCHSAA announced the inductees at a livestreaming news conference at the NCHSAA Headquarters in Chapel Hill Aug. 17.
This year's class is comprised of: Coach James "Jim" Biggerstaff from Belmont, Coach Allen Brown from Thomasville, Coach Dave Elder from Hickory, Robert "Bob" McRae of Kings Mountain, Coach Donnie Simpson from Elizabeth City, Coach Dave Thomas from Goldsboro, Earl Vaughan Jr. from Fayetteville and Coach Herb Sampsel from Statesville (posthumously).
"We are so excited to recognize these eight individuals who have made a tremendous impact, not only on their students and communities but on the landscape of educationbased athletics in North Carolina," said NCHSAA Commissioner Que Tucker. "This class represents many different areas of service over a vast number of years, and the members are to be commended for their outstanding careers and involvement in the NCHSAA."
With the addition of this year's class, the total number of inductees is 188. The official induction at the annual NCHSAA Hall of Fame Banquet is scheduled for Saturday, April 14, 2018 at the Embassy Suites in Cary. Vaughan Jr. is a UNCWilmington graduate. He grew up in Fayetteville where he worked for The Fayetteville Observer for 44 years before joining the staff of Up & Coming Weekly. While working at the Observer, Vaughan Jr. was chairman of the NCHSAA's Athlete of the Year Committee for over 30 years. Other accolades include being named a Distinguished Service Award Winner by the NCHSAA, once in 1995 and again in 2008.
Vaughan Jr. was also the first-ever two-time winner of the NCHSAA's Tim Stevens Media Representative of the Year Award.
Vaughan Jr. also was inducted as a member of the Fayetteville Sports Club Hall of Fame. Vaughan Jr. will be the fifth person directly involved with media to be inducted into the NCHSAA Hall of Fame. Previous media inductees are Tom Northington of the Greensboro News and Record, Tim Stevens of the Raleigh News and Observer, Tom Suiter of WRAL-TV and Mary Garber of the Winston-Salem Journal.
Vaughan Jr. will be the first media person and the seventh person overall from Fayetteville and Cumberland County inducted into the NCHSAA Hall of Fame. Others were Cape Fear coach Doris Howard, Douglas Byrd and Seventy-First coach Bob Paroli, Fayetteville High coach R.E. "Buddy" Luper, E.E. Smith coach and Cumberland County administrator Bill Carver, former Cumberland County Schools superintendent Bill Harrison, Terry Sanford coach Gil Bowman and Harnett County coach Al Black, who lived in Spring Lake.
PHOTO: Earl Vaughan Jr. (front, left) will be inducted into the NCHSAA Hall of Fame April 14, 2018.