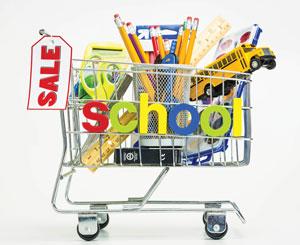 Cumberland County Schools presents its Stuff the Bus school supply drive Friday, Sept. 1, from 8 a.m. to 4 p.m. at the Walmart Supercenter located at 2820 Gillespie St.
"This is our annual Stuff the Bus school supply drive, and we decided to move our location to the Walmart on Gillespie Street because they are great partners with Cumberland County Schools," Pamela Story, social work coordinator for Cumberland County Schools, said. "Traditionally, we have held this school supply drive for the last 10 years to provide school supplies for our homeless students."
The community has been generous to CCS this year, which means they can help even more students. Story said that CCS received such exceptional support from the community and the Register of Deeds Office, which will be giving 800 backpacks for homeless children, it was decided that this year the school supplies will be given to students with special needs.
"A child with special needs is a child in Cumberland County's School System who requires specially-designed instruction to benefit from their education," said Julie Aul, executive director of Exceptional Children for Cumberland County Schools. "It is any child who has any type of medical, physical or learning difficulty in the school system that needs additional assistance."
Aul added that families with children with special needs sometimes have additional financial burdens because of their medical needss, transportation needs and other kinds of specialized services they may receive out of the home. That made the decision to help an easy one.
"This year, we are going back to the basics," Story said. "The school supply items include notebook paper, composition books, three-ring binders, paper, pocket folders, dividers, No. 2 pencils, pens, colored pencils, crayons, file folders, glue sticks and hand sanitizer." Cash donations will be accepted and used to purchase school supplies.
"It is wonderful for our students just to have something new and bright given to them. (It) kind of helps them with their self-esteem and interest in coming to school, because school is a tough place for children with special needs, and it is not easy for them like it is for some children," Aul said. "They have to work a little bit harder. This is a good way also to help them feel special and make it a positive environment for them, too."
For more information, call Cumberland County Schools' Social Work Services at 678-2621 or 868-2012.