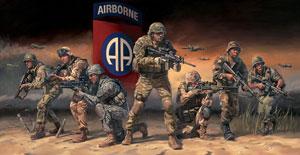 Donald Trump's new plan for Afghanistan calls for additional U.S. forces, greater NATO participation and regional pressure that echo the previous administration. Thousands of 82nd Airborne Division paratroopers are expected to be deployed to Afghanistan in the coming weeks, a U.S. defense official told Fox News last week. The official refused to be more specific about the timetable because the orders had not yet been signed.
Gen. Joseph Votel, the top U.S. commander for the Middle East, earlier told reporters in Saudi Arabia that the deployments could take days or a few weeks. "What's most important for us now is to get some capabilities in to have an impact on the current fighting season," Votel said. "Nearly 16 years after the Sept. 11 attacks, the American people are weary of war without victory," Trump said. He was vague as to the specifics but seemed to concur with military advisors that another 4,000 troops may soon be on their way to the Middle East. A brigade of the 82nd Airborne Division is already in Iraq.
Robbery Leads to Murder
Fayetteville police have charged four young people, including two teenagers, in the fatal shooting of Alton Williams, 52, who was found dead Aug. 18 near his home on Eldorado Road in the Holiday Park subdivision, said Police Lt. Todd Joyce.
The suspects have all been charged with firstdegree murder, robbery with a dangerous weapon and conspiracy to commit robbery. The accused suspects have been identified as Solomon Broady, 21; Jermaine Florence, 18; Olander Sanders Jr., 16; and Demetrius Hammonds, 25. There have been 15 homicides in Fayetteville so far this year.
Fayetteville 911 Accredited
Fayetteville Police Communications has been approved as an Emergency Medical Dispatch Center of Excellence by the Board of Accreditation of the International Academies of Emergency Dispatch. Fayetteville Police Communications thereby earned the distinguished honor of becoming the 244th Emergency Medical Dispatch Accredited Center in the world.
The IAED is a nonprofit, standard-setting organization promoting safe and effective emergency dispatch services worldwide. An Accredited Center of Excellence is the highest distinction in 911 emergency communication services. In addition to being featured in the next issue of The Journal of Emergency Dispatch, Fayetteville Police Communications will be recognized on The International Academies of Emergency Dispatch's website.
Spring Lake Chamber Leadership
The Board of the Spring Lake Chamber of Commerce has chosen Debra Clyde to serve as President and CEO of the chamber. She has a bachelor's degree in Public Administration and Policy and is an Army veteran.
Clyde is not a newcomer; she has been a resident of Spring Lake since 2006 and has worked with and for the chamber in various roles. "Debra's dedication to the town has always resonated in everything she has done," said Marva Lucas-Moore, Chairwoman of the Spring Lake Chamber.
Sunday Bus Service Approved
The city of Fayetteville has become the last major municipality in North Carolina to provide limited bus service on Sundays. City Council gave final approval to the Fayetteville Area System of Transit to begin the service.
Transit Director Randy Hume said he needs a few weeks to organize things and hopes to launch the service in November. Ten of the system's most popular routes will offer the service. Hours vary a bit but generally will provide service between 9 a.m. and 7 p.m. Also, Hume said the new transit center on Russell Street will be opened for business next month, 16 months behind schedule.
Dogwood Fall Festival Upcoming
This year's fall Dogwood Festival will take place Oct. 19-21. Events will be held in Festival Park in downtown Fayetteville, and will include a haunted maze, hayrides, walking tours of Cross Creek Cemetery and performances by several bands. Children will have a dedicated spot they can call their own. Food and beer attractions will offer additional choices from years past. This is Fayetteville's fourth annual fall festival.
Fayetteville Symphony Gifted by the Arts Council
The Fayetteville Symphony Orchestra is the recipient of a Community Organization REsource $150,000 grant from the Arts Council of Fayetteville/ Cumberland County for its 2017-2018 season.
The support from the Arts Council grant enables the symphony to keep ticket costs affordable and accessible for the Fayetteville community and provide music programs for school children. "Operating Support grants are designed to strengthen our community through the arts," said Deborah Martin Mintz, executive director of the Arts Council. The Arts Council's CORE grants are awarded to local arts agencies in Cumberland County whose programs are vital to the cultural life of the community and whose organizations have reached a size and maturity that assure their long-term viability.
Fort Bragg Red Cross Needs Help
Fort Bragg Red Cross volunteers serve our military and neighbors in need every day. The American Red Cross is in need of volunteers on post to work with military members and veterans at Womack Army Medical Center.
Red Cross volunteer opportunities allow the military to make a powerful and positive difference and help their fellow soldiers in need. Volunteers make up 90 percent of the Red Cross workforce and provide more than 2,000 volunteer hours per month at Fort Bragg. Free training is made available to volunteers. Apply online at www.redcross.org or contact Linda R. Daney at (910) 907-6234 or Linda.Daney2@Redcross.org.