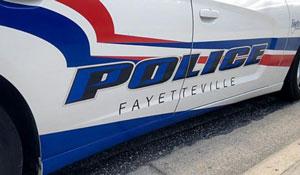 Fayetteville's murder rate is on pace to match the city's all-time high of 31 homicides recorded last year. Twenty people have been killed thus far in 2017, eight of them since mid-August. On Friday, Sept. 8, just before 7 p.m., police found two individuals dead when officers made entry into a home on Yellow Brick Road off Hoke Loop Road in West Fayetteville. Police spokesman, Lt. Todd Joyce, said a third person and a child were in the home when officers arrived, but had not been hurt.
This was the second double homicide in Fayetteville in a week. On Sept. 5, police found two men shot in a car parked in the Smokey Bones Bar & Grill parking lot on Skibo Road. One of them was dead; the other near death. He died three days later at Cape Fear Valley Medical Center. Twenty-four hours earlier, a female passenger in a car was killed in a drive-by shooting on Kennesaw Road. The driver was unhurt.
These most recent murder cases remain unsolved, and police ask that anyone with information notify them. Fayetteville/Cumberland County Crime Stoppers is offering cash rewards. Crime Stoppers can be reached at 483-TIPS. Anonymous information can also be submitted online at fay-nccrimestoppers.org or by downloading the free P3 Tips app available on Apple and Android devices.
Fayetteville Resident Dies in House Fire
A raging fire in a home on St. Paul Avenue in Fayetteville claimed the life of the resident over the weekend. Fayetteville firefighters found the home in the Evergreen Estates neighborhood fully engulfed in flames just after midnight on Saturday, Sept 9. A car was also on fire. Two firefighting crews entered the house to fight the blaze. "One of the crews located the victim in one of the back bedrooms," said Assistant Fire Chief Kevin Morgan. Ambulance paramedics from Cape Fear Valley Medical Center declared the resident dead on the scene.
Firefighters battled the blaze for approximately an hour before it was fully extinguished. "Damage was done to the entire home with the bulk of the fire damage in the living room and carport area," Morgan said. "Damage to the structure, its contents and the car was estimated to be $150,000." Cause of the fire and manner of death have not been determined. The origin of the fire was the living room of the home. A joint investigation involving the FFD, Fayetteville Police, ATF and SBI is underway.
North Carolina Sues Chemours
State officials have ordered Chemours to stop releasing all fluorinated compounds into the Cape Fear River and began legal action against the company to suspend its permit for discharging wastewater into the river.
The state of North Carolina initiated a lawsuit against Chemours in Bladen County Superior Court. Acting on behalf of the N.C. Department of Environmental Quality, attorneys with N.C. Department of Justice are seeking a court order against Chemours Fayetteville Works plant on the Bladen County line. In a separate letter, DEQ notified Chemours that the state has begun the process of suspending the company's wastewater permit for failure to adequately disclose the release of GenX into the Cape Fear River.
Without the permit, the company cannot release any wastewater into the river. "Protecting people's drinking water is our top priority, and we've put Chemours on notice that it must stop discharging these chemicals into the Cape Fear River immediately," said Secretary Michael Regan of the N.C. Department of Environmental Quality. In June, DEQ and the N.C. Department of Health and Human Services began investigating the presence of GenX, a chemical made at Chemours' Fayetteville plant, in the river.
In a letter to the company, DEQ wrote: "We have found no evidence in the permit file indicating that Chemours or DuPont (Chemours' predecessor) disclosed the discharge to surface water of GenX compounds at the Fayetteville Works." DuPont operated the Fayetteville Works facility that produces GenX until 2015 when Chemours was created as a spin-off company.
911 Center Negotiations Continue
City of Fayetteville and county of Cumberland officials still do not agree on who should run a planned joint emergency dispatch and call center. Some city council members are ready to move forward as originally planned with the city operating the system. But the council agreed last week to have Deputy City Manager Kristoff Bauer and Assistant County Manager Tracey Jackson continue their negotiations.
At issue are operational standards and funding. Bauer told city council some progress had been made. The ultimate decision regarding which entity of local government operates the system hinges on whether the county is willing to match the city's operational standards. The City Communications Division is nationally accredited; the county's is not.
Police and Public Working Together
The police will tell you that one of their biggest weapons in the fight against crime is community. Detectives have arrested a pair of men in a string of armed robberies that occurred during the pre-dawn hours of Sunday, Sept. 3, and officers are crediting the public.
Police said active social media outlets, shared public information and phone tips led to the successful identification and apprehension of the suspects. "Providing anonymous tips through Crime Stoppers, statements and sharing information with others is a key component of community policing," said Police Chief Gina Hawkins. "We are grateful for the relationships that have been established in our community to work together to make it safe," she added.
Thomas Eugene Skipper, 26, and Jason Allen Gates, 28, fled to Mount Olive, North Carolina, according to police. Detectives received information of their whereabouts once their photographs were shared across social media. The FPD violent criminal apprehension team along with Mount Olive and Duplin County authorities located and arrested Gates and Skipper without incident. They've been jailed, charged with robbing a customer of a Raeford Road grocery store, a patron of a local tavern and an employee of a bowling alley. The public can contact the police via Crime Stoppers by calling (910) 483-TIPS.
Wilkes Road Yard Debris Dump Reopens
The county has reopened the Wilkes Road Compost Facility at 771 Wilkes Rd., following a pesky mulch fire that closed the facility Aug. 27. No equipment or buildings were damaged in the fire.
The facility is open Monday through Saturday from 8 a.m. to 4 p.m. The Wilkes Road facility accepts residential yard waste and commercial land-clearing debris. Vegetative debris is treated and sold for boiler fuel and is also used to create screened compost and mulch. Residents can purchase the screened mulch Monday through Saturday from 8 a.m. to 3:30 p.m.