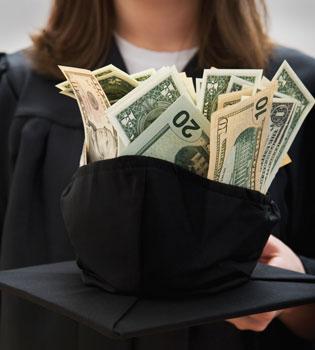 The Fayetteville Technical Community College Financial Aid Department is excited to share some updates with you. Our goal is to make your financial aid application process understandable so that you can use financial aid to help you achieve your educational goals. By providing information from the Department of Education on financial aid news and from FTCC on our current services, we hope to educate current and prospective students about the options they have for help with financing.
Federal Financial Aid Updates:
• The 2017-18 Free Application for Federal Student Aid is the correct FAFSA version to use for the current school year (fall 2017, spring 2018 and summer 2018 semesters). Students should use 2015 tax information when completing the FAFSA. The 2017-18 FAFSA marks a change since it is the first FAFSA to use two-prior-year tax information. This means students will use year-2015 tax information on this FAFSA and save year-2016 tax information for the 2018-19 FAFSA.
• The 2018-19 FAFSA will be available in October. Students can apply for financial aid for the 2018-19 school year early and use year-2016 tax information to complete this FAFSA. We encourage students to file their FAFSA applications this fall for next year to allow plenty of time to supply any needed documentation.
• Many students will be excited to hear that the Department of Education has announced the return of yearround Pell Grant funds beginning with the summer 2018 semester. Formerly, students who had attended full-time in the fall and spring semesters on Pell Grant funds did not have any Pell Grant eligibility remaining in the school year for the summer semester. Starting with summer 2018, however, eligible students who have not exhausted lifetime eligibility for Pell Grant funds will have the opportunity to use Pell Grant funds in the summer — even if they have already attended full-time during fall and spring.
FTCC Financial Aid News:
• The FTCC Financial Aid Office is located in Room 2 of the Tony Rand Student Center at the Fayetteville campus. Normal operating hours during the school year are 8 a.m. to 5 p.m. Monday through Friday. However, we are open on Tuesdays until 7 p.m. to accommodate students who work during the day. Tuesday evenings are a great time for students to speak with a financial aid technician, and we would love to serve more students during this time.
• The Financial Aid Office has launched a new campaign — All Techs on Deck Financial Aid Nights — to educate students about financial aid processes. We held our first All Techs on Deck night Aug. 1. Students watched a demonstration on how to access their financial aid information in self-service, enjoyed snacks and drinks and spoke one-on-one with technicians for assistance. The next All Techs on Deck night will be coming soon; watch the FTCC website for details.
• FTCC has multiple fall semester class start dates, and it is not too late to file the 2017-18 FAFSA and start fall classes! Remember, the 2017-18 FAFSA pertains to the fall 2017, spring 2018 and summer 2018 semesters, and many fall 2017 classes are still available.
Visit us at the FTCC Financial Aid Office at the Tony Rand Student Center, and let us help you start your financial aid application process and journey at Fayetteville Tech.