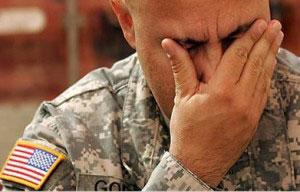 Once every hour and 12 minutes — that's how often U.S. military veterans kill themselves. About 20 veterans committed suicide each day in 2014 — the year for which the most recent statistics were available, according to the U.S. Department of Veterans Affairs.
VA Secretary David Shulkin referred to this national tragedy as "an unacceptable statistic," in an interview with The Hill.
"We're reaching out to community groups, to academic groups," Shulkin was quoted as saying. "We're trying new therapies and treatments. And I certainly hope that we can have a big impact on this problem."
There were 71 suicides among men and women on active duty, 20 suicides of reservists and 31 National Guard suicides in the first quarter of 2017, according to the Defense Suicide Prevention Office. Officials are evaluating a series of factors that have been developed as a profile. Suicide risk factors include being male, Caucasian and having psychiatric trauma, said Dr. Craig Bryan, executive director of the National Center for Veterans Studies at the University of Utah.
Fort Bragg authorities typically do not publicly acknowledge soldier suicides. "(Department of the Army) holds those records and does not allow each installation to release them," said Fort Bragg spokesman Tom McCollum. The media section of Bragg's Public Affairs Office routinely releases news of what it describes as unspecified deaths on post. Army authorities use a news release template. Media inquiries are referred to Army Criminal Investigation Command Headquarters where news outlets are told the cases are under investigation.
"We readily admit that our death investigations take time due to our thoroughness and the fact that we investigate all deaths to a standard of homicide," said Chris Grey, chief of public affairs for the Army Criminal Investigation Command. Routinely, confirmed suicide deaths are added statistically to quarterly reports of the DSPO.
For both post-traumatic stress disorder and suicide, "part of the issue is not necessarily combatrelated," Dr. M. David Rudd, the co-founder and scientific director of the National Center of Veterans Studies, told Fox News. He cited the "stress of being in the military during wartime," saying there's an intensified operations pace for those both deployed and at home.
Military men and women who enlisted since 2001 have known they would likely be deployed to Iraq and Afghanistan. The military, Dr. Keita Franklin, director of the DSPO, explained, has been trying to distance people at risk of suicide from methods that could be used to harm them like by giving them gun locks. Most military suicides involve personallyowned weapons, Franklin said. "We're not trying to restrict their weapons," she added, instead stressing that it's a risk reduction method. Other resources available include the website Military OneSource, military family life consultants, a peer support line and embedded behavioral health providers for units.
Treatment facilities are also an option. Cognitive behavioral therapy is "the gold standard" Franklin explained, which "helps people kind of unpack their current beliefs. What's right for one person isn't right for another." The therapy involves 12 sessions instead of years of treatment. In a study published in 2015, active-duty Army soldiers at Fort Carson, Colorado, were given either regular treatment, or regular treatment along with cognitive behavioral therapy. Rudd, Bryan and others found that soldiers in CBT were approximately 60 percent less likely to attempt suicide during follow-up than soldiers in treatment as usual. A Military Crisis Line is available for service members and veterans who can also text for help. Service members and veterans can also participate in online chats with Veterans Affairs responders.