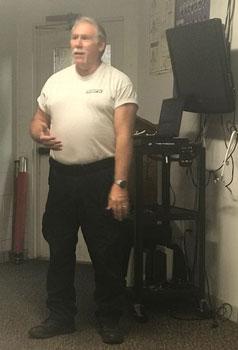 As students of the Hope Mills Citizens Academy learned Thursday, Oct. 5, being a firefighter takes commitment. Deputy Fire Chief Steve Lopez told the class there is a high turnover rate in the department due to lack of commitment.
"We will risk a lot to save a lot, but we won't risk much to save a little," Lopez said as he described the ratio of benefits to risk in his line of work. "Like the military, the lessons learned typically are written in blood."
With firefighting comes injuries. Back injuries are very common. Unfortunately, so are heart attacks. Lopez said the reason for the high incidence of heart attacks among firefighters was not so much mental stress as it was physical stress caused from the heavy equipment, clothing and heat.
A firefighter must be willing to spend countless hours away from his or her family. Sometimes time away means a few days. Sometimes it means a week or more, especially during a devastating event such as a hurricane.
Operations
Lopez said the Hope Mills Fire Department is one of the two largest employed departments in the Town of Hope Mills. He went on to explain that his staff members work a three-day, 24-hour cycle with three shifts. They come in, work a 24-hour shift, go home for a day and repeat that cycle two more times. After that, they are off for four days.
There are no less than 15 people working on a daily basis. Ten individuals work per shift. There is the captain, the lieutenant and the firefighters. The engineer drives the trucks.
A-shift is the training shift. This shift administrates over the training division so all firefighter training is done either outside or inside the department and is recorded by them. The A-shift staff then fills out the required state forms that have to be reported on an annual basis.
B-shift is the supply and logistics shift. The B-shift staff is responsible for maintaining the "household" portion of the department. They make sure supplies such as soap, paper towels and other necessities are in stock and filled.
C-shift is the maintenance shift. They handle light apparatus maintenance such as changing bulbs and filters and performing other duties that do not require certification. "This shift has my plumbers, my heating and air guys, my electricians," Lopez said.
"Almost all of my people have a part-time job," Lopez said. "The majority of those folks work at other fire departments. Some are plumbers. Some are HVAC. Some are welders." Lopez, a veteran and a certified welder, sends his employees to Hercules Steel to become certified.
The HMFD averages about 12-15 calls per day. Lopez said, "It's difficult to sleep sometimes here because the radios and tones and all that are going off. The squads are going out the door. The ladder truck is going someplace. An active fire house is not a restful sleep kind of place."
"However, our guys live here," Lopez continued.
Every October, the HMFD tests its hose. They do this by pressure testing the hose against the rated pressure required by North Carolina. It's to ensure enough pressure and water flow will occur when putting out fires.
On a daily basis, firefighters clean the debris from trucks and run maintenance checks that ensure not only the people of Hope Mills' safety but theirs as well.
For the trucks, the HMFD has a great relationship with H and H Freightliner, which helps them maintain proper use.
The HMFD is not just a fire department. It also has a team for rescue/recovery and for land search. HMFD staff have traveled all over the state and out of state to help other first responders in times of disaster.
The Most Dangerous Fires
According to Lopez, we are coming into a time when there will be many more fires because of "the age of construction, the age of the wiring, the ... lack of discipline." He gave a few tips to prevent fires. Citizens should maintain fresh batteries in their alarms. They should clean the hoods over their stove and oven units whether at home or their place of work. They should keep their fire extinguisher up to date. Lopez said that if your fire extinguisher is expired, you can turn it in to the fire department and get a new one. As Lopez pointed out, "It's much cheaper to spend $35 on a new extinguisher from Wal-Mart than it is to replace your house."
Lopez taught the class that because heat causes metal to expand, a steel structure collapses quicker than one made from wood. Also, most homes and businesses have items that are sprayed with chemicals that, when burned, cause deadly fumes.
Lopez also said that one of the downfalls of modern structures, from a firefighter's point of view, is when particle board began to be allowed in the walls and ceilings. Pressed board is also dangerous. Firefighters call it "gas wood," and it is not dependable or durable.
"It's not just smoke we have to worry about now," Lopez said. "It's toxic gases from manufactured materials."
History
HMFD was formed in 1945, and its district extended from Hope Mills where the Communications Workers of America building is located on Patterson Street all the way to downtown Fayetteville.
Its original truck came from the Navy during World War II and was part of the surplus. It was made of part of a garbage truck that the Town of Hope Mills acquired and part of a Chevrolet truck that Junior MacLean's father had.
At that time, the only two fire departments were in the Town of Hope Mills and the City of Fayetteville.
The HMFD was one of the first to utilize a First Responder EMS, which also allowed it to be one of the first to have a defibrillator.
Exploring the Trucks
After class, students were able to view and learn about the engines and the First Responder EMS. They were allowed to go up in the bucket on the ladder truck. Assistant Chief Wayne Dutterer controlled the ladder, which extends to 101 feet. Dutterer took the students up 94 feet. With his sense of humor, he had fun showing the class how sensitive the controls were.
Deeper Respect
The students left with a deeper respect for their town's fire fighters. They learned the dangers and sacrifices these men and women make on a daily basis to make the Town of Hope Mills safer. They saw the compassion from Deputy Fire Chief Lopez as he spoke about situations he and his crew have been through, whether it was fighting a fire, stopping an infant from having a heart attack, or helping other departments during devastating weather. And they learned some important safety tips to protect themselves and their families.
PHOTO: Deputy Fire Chief Steve Lopez has been with the Hope Mills Fire Dept. since 1994.