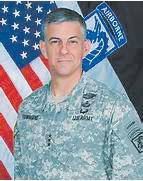 Lt. Gen. Paul J. LaCamera took command from Lt. Gen. Stephen J. Townsend as commanding general of XVIII Airborne Corps and Fort Bragg. Townsend served as corps commander for more than two years. He spent about half that time deployed to Iraq as commander of Operation Inherent Resolve.
Townsend is the new commanding general of the Army Training and Doctrine Command at Fort Eustis, Virginia. It is a four-star command.
LaCamera received his third star as he was named Fort Bragg's new commander in a ceremony Jan. 19. LaCamera served as deputy commander of XVIII Airborne Corps. Rarely has Fort Bragg's deputy commander been elevated to commander.
All-America City bragging rights
To help recognize All-America Cities from around the country, the National Civic League is sponsoring an All-America City #ShareYour- Shield photo contest to showcase all the ways in which cities have used the All-America City logo to recognize their award. The winner will receive free registration for four people to attend the 2018 National Conference on Local Governance and the 2018 All-America City Award event.
With over 500 All-America Cities throughout the country, the National Civic League has seen many creative and inspiring uses of the All-America City Shield. Fayetteville has been designated an All- America City three times. Cities are asked to share their most creative and impactful uses of the logo on Facebook or Twitter by tagging All-America City and using #ShareYourShield no later than Feb. 8.
Governor comes to town
Gov. Roy Cooper was in Fayetteville last week. He attended the 25th annual Martin Luther King Jr. Prayer Breakfast at the Crown Center. It is hosted each year by the Fayetteville Cumberland County Ministerial Council.
Cooper urged the 1,300 attendees to speak out against injustice. He spoke of King's passionate speeches that were essential to the American civil rights movement of the 1960s. Cooper seemed to refer indirectly to recent news headlines, saying light can drive out darkness, despite leaders who seek to divide and people who call each other names.
"Keep shining your light in the world, and we can all together drive out the darkness," the governor said. "Now is the time for us to raise our voices for inclusiveness and diversity because they make us stronger," he said. He also spoke of the importance of faith and community. "Those values will light our path forward."
Fatal fire under investigation
The Fayetteville Fire Department continues to probe the cause of a fire earlier this month that claimed the life of a woman identified as Shelley Davis, 57.
The fire was reported at 4:30 a.m. Saturday, Jan. 13, at 1908 Stanberry St. in the Holly Springs neighborhood off Murchison Road. Officials said the small house was engulfed in flames when firefighters arrived. The victim was found dead inside the house after fire crews were able to knock down intense flames and enter the building. Three other occupants were able to escape.
But, the victim's husband, Robert Davis, 59, was badly burned and taken to UNC Hospitals in Chapel Hill. Their 30-year-old daughter and a toddler whose name and age were not given were treated and released from a local hospital, said Lt. Todd Joyce, a Fayetteville Police spokesman.
"12 Strong: The Declassified True Story of the Horse Soldiers"
With the premier of the movie "12 Strong: The Declassified True Story of the Horse Soldiers," Fayetteville's Airborne & Special Operations Museum is displaying a special exhibit entitled "America's Response."
It features artifacts from the special forces soldiers who deployed to Afghanistan immediately after the Sept. 11, 2001, terror attacks. Artifacts include a saddle used by the Horse Soldiers and steel from the World Trade Center carried during the deployment by a special forces soldier. Operational Detachments Alpha 555 and Alpha 595 of the Army's 5th special forces Group were inserted into Afghanistan. Because of the rugged mountainous terrain, ODA 595 adopted the local mode of transportation: horses. The 12 Green Berets were the first U.S. soldiers to fight on horseback since World War II. In November 2001, ODA 595 fought alongside other Green Berets and approximately 2,000 Northern Alliance fighters mostly on horseback. They took the Taliban stronghold of Mazar-e-Sharif, the first significant Taliban defeat in the Global War on Terror. The exhibit runs through the end of January.
Better Business Bureau announces development program
Liz Stiles, the Better Business Bureau customer service representative for Fayetteville and Cumberland County, announced this week a new program designed to enhance customer relations for local businesses and organizations. With the belief that actions speak louder than words, the BBB is encouraging businesses to practice what they have designated as the 5 gestures of trust: Be honest, be transparent, be proactive, be humble, and be fair. The program will be presented in the form of a new, exclusive webinar Jan. 23 from 2-3 p.m. to accredited businesses in the Fayetteville and Cumberland County area.
According to Stiles, "Ever-changing technology, social media and direct consumer experiences can make or break a business. Today's successful businesses, therefore, must be customer-centric, employee-focused, innovative and environmentally and socially conscious. This is what the BBB's 5 Gestures of Trust Program is all about – assisting businesses and organizations in establishing new frameworks to evaluate and improve relationships with their customers."
To register for the webinar or for more information about the BBB Fayetteville/Cumberland County, contact Liz Stiles at e.stiles@coastalcarolina.bbb.org or call 910-818-0367.
Photo: Lt. Gen. Stephen J. Townsend