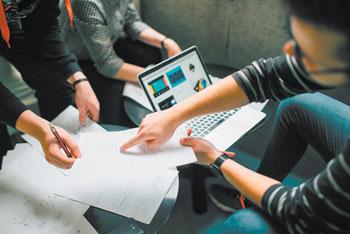 The Student Learning Center at Fayetteville Technical Community College offers students the opportunity to be in charge of their own learning with the support of qualified, talented instructors. The center provides students with academic assistance and resources to further their comprehension in various subject areas.
The SLC, formerly known as the Learning Lab and the Success Center, has been serving students since the 1960s. It has been a focal point for numerous students across campus, having served thousands every academic year. Over the decades, the SLC has evolved into a place where students gravitate to receive one-on-one assistance and to focus on their individual academic needs.
Instructors of the 12-member faculty staff who tutor at the center strive to provide a friendly environment. A staff member welcomes the student with a smile and assesses his or her needs for the visit. A plethora of resources available to students includes computers, laptops, calculators, textbooks, subject-specific handouts, small rooms for study groups and comfortable tables and chairs. Staff at the SLC want to help all students succeed and accomplish their educational goals.
One of the center's commitments is to bridge the gap between learning and understanding. Everyone learns differently, and the SLC's staff members assist students who need additional help interpreting course material. Students are encouraged to come to the SLC as soon as they have questions or need help comprehending a concept.
Three specialized labs that offer detailed assistance on core subjects are located on the same floor as the main SLC. All students are welcome to use the SLC, but they may wish to take specific questions to the math, science or writing and communication labs. These labs are equipped with additional resources to help deepen a student's understanding and are staffed with instructors who have achieved a master's degree level of educational expertise.
To take advantage of the many academic aids available at the SLC, a student must simply be enrolled in an FTCC curriculum course and present his or her student ID at the center's front desk. An SLC staff member will help with the quick and simple enrollment.
In addition to the one-on-one tutoring offered in the SLC, FTCC also provides NetTutor Online Tutoring Service for face-to-face and distance learners. NetTutor is available 24 hours a day, seven days a week and is a terrific resource for students who are not able to visit the center on campus.
The SLC is located next to FTCC's Paul H. Thompson Library in the Harry F. Shaw Virtual College Center, Room 232. To learn more about the center, visit www.faytechcc.edu/ campus-life/academic-support/#slc. Students may contact the center at 910-678-8266 or learningcenter@ faytechcc.edu.