Fayetteville Technical Community College's 56th commencement exercises on May 18 at the Crown Coliseum represented the first year in the history of the college where students in the graduating class divided into two groups to participate in separate ceremonies, at 10 a.m. and 2 p.m. Each ceremony recognized specific program areas. The change was made primarily for the convenience of FTCC students and their family members. Fayetteville Tech celebrated with a record number of graduates during the combined ceremonies: 2,498 curriculum/credit graduating students; 5,797 associate degrees/certificates/diplomas; 315 High School Connections students; and 210 adult high school students.
The staff at FTCC are grateful to the honorable Sen. Wesley Meredith, who served as commencement speaker and delivered a unique message to the graduating class – a message of hope, perseverance and success. It's a message shared by many FTCC students who turn to the school in search of higher education, leading ultimately to a path for success.
Meredith shared his personal story about how he earned an associate's degree from Fayetteville Tech in horticulture technology and was better equipped to handle the challenges of owning, sustaining and growing his lawn care business. He reminded students that the road of life following graduation would not always be smooth and easy, and dedication and perseverance would always be required – not only for graduates seeking to become entrepreneurs but also those who plan to work for an employer or continue their education.
Meredith represents an excellent role model for our college graduates in that he not only succeeded in developing and growing his business as a community college graduate, he also demonstrated his appreciation for the community he loves by serving the citizens of Cumberland County in his role as District 19 representative and majority Whip in the North Carolina Senate.
At the same time FTCC celebrated with 2018 graduates during the ceremony, we were also informed about the critical condition of another good friend of the school's – Harry F. Shaw. We later learned that Shaw died the next day following the graduation ceremony.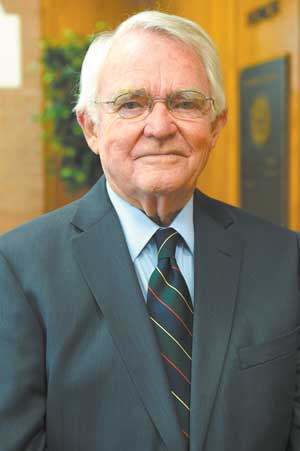 Shaw once commented that he very much looked forward to shaking the hands of each FTCC graduate and was stirred emotionally when he saw the individuals who had turned to FTCC to complete their high school education. I would like to thank the FTCC students, faculty, staff, board members, family members of our students and other honored guests who took a few moments during the graduation ceremony to pause with me to honor the life and contributions of Harry F. Shaw.
Shaw served on the FTCC Board of Trustees from 1969 to 2007, served on the FTCC Foundation Board of Directors and worked diligently on several committees through his service to the North Carolina Community College System. In honor of his devoted service to FTCC, Fayetteville Tech named the Harry F. Shaw Virtual College Center (opened in 2005) at the Fayetteville campus in honor of him.
I invite you, also, as members of the Fayetteville community, to take some quiet time to reflect on the positive impact of Shaw's many contributions not only to FTCC and North Carolina's community colleges but also to the Fayetteville and Cumberland County area.
It is never easy to say farewell to a friend as good as Shaw was for so many in our community, but we can find some comfort in knowing that his touch will be embedded forever in our community and the place he loved so very much.
PHOTOS: (Top to Bottom) Sen. Wesley Meredith & Harry F. Shaw