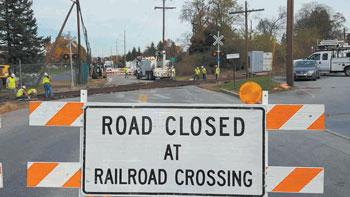 Section of Cliffdale Road closed to traffic
The Aberdeen & Rockfish Railroad grade crossing on Skibo Road will likely remain under construction a few more days. It has disrupted local traffic since June 18. The North Carolina Department of Transportation closed Skibo Road (U.S. 401 Bypass) in both directions between Cliffdale Road and Chason Ridge Drive. It provides access to Best Buy, Target and other nearby shopping areas.
The busy corridor is scheduled to reopen at 5 p.m. Friday, June 22. Local motorists will likely use Glensford Drive, which runs parallel to Skibo as a detour.
Railroad workers are replacing the rubber-type crossing with more durable concrete panels. Aberdeen & Rockfish completed the same type of improvement last year at Raeford and South McPherson Church Roads. After the rail improvements are made, NCDOT will repave the crossing to make a smooth driving transition.
Cumberland County Schools funding boost
The Cumberland County Board of Commissioners is increasing school funding by several million dollars for the fiscal year beginning July 1. The county is providing $80,150,000 to Cumberland
County Schools for current expense funding.
The amount is an increase of $686,891 above the current fiscal year. The school board and county commissioners settled a funding dispute during a mediation June 11.
County commissioners also agreed to pay the schools 25 percent of tax revenues collected above the budgeted revenues for Fiscal Year 2018. Significantly, the county is also providing $1,315,299 for school nurses; $2,422,025 for School Resource Officers; and $865,093 for Crossing Guards, for a total of $84,752,417 of local county dollars for current expenses next fiscal year.
"It is our hope that both boards will once again develop a multi-year funding agreement, and we look forward to having those conversations with our new school superintendent," said Board of
Commissioners Chairman Larry Lancaster.
Downtown bridge repair delays
Reconstruction of the North Cool Spring Street Bridge connecting Grove Street to Person Street will be delayed for several weeks. The city says repairs began in November 2017 and were expected to be completed by now. But problems that had not been found initially have added to the time schedule. This includes repairs to water and sewer mains, bank stabilization, storm drainage, curb and gutter and the sidewalk.
A portion of North Cool Spring Street was washed away by flood waters from Hurricane Matthew in October 2016. Two other downtown bridges over Cross Creek are still closed, one of them – the Ann Street bridge – because of damage three years ago.
Unattended cooking fires
Fire officials say walking away from the range while cooking results in one of the most common causes of house fires. There have been at least two instances in Fayetteville of unattended cooking resulting in fires this month.
The most recent was at a home on McMillan Street off Campbell Avenue downtown. The first arriving fire engine "found a single story, residential structure with fire showing from the front of the
building," said Deputy Fire Chief Hieu Sifford.
Firefighters were able to quickly find the origin of the fire and extinguish the blaze. The lone occupant of the house was not hurt. Sifford said the fire was contained mostly to the kitchen, resulting in an estimated $8,000 in damage.
The same day, fire crews said unattended cooking resulted in a kitchen fire in Windsor Terrace off Hillsboro Street. The occupant left his cooking on the stove and laid down to take a cap. Chief Sifford said a smoke alarm woke him up to discover the fire. He was not hurt.
Recycling is up in Fayetteville
North Carolina's Recycling and Materials Management Section has released recycling numbers for all 100 counties showing a 5.3 percent increase in paper and container recycling compared to the previous year. Local recycling programs collected more than 1.7 million tons of traditional and nontraditional materials last year.
"Recycling collection in North Carolina has expanded alongside increasing demand for recyclable material by in-state manufacturers," said Wendy Worley, Recycling and Materials Management section chief. "Counties and municipalities are targeting much more than paper, cans and plastics. There are so many more materials that can be recycled, like construction debris, wood and electronics, and kept from going into the landfill."
North Carolina recovered almost 27,000 more tons of paper than the previous year and 8,000 more tons of metal. Plastics and glass tonnages remained essentially unchanged.
The state says Cumberland County's population has grown by 100,000 people since the 1991-92 fiscal year, but recycling here has increased by 32 percent since then. The city of Fayetteville was among the first to make curbside recycling available.