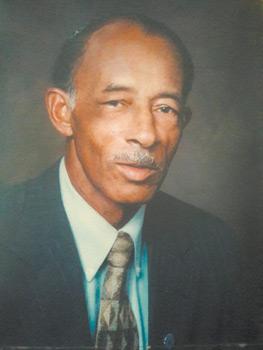 Writers avoid using the word legend with great frequency in this business, and with good reason.
Used too often, it cheapens the effect and makes it seem far less than the exclusive club it should be.
But the late E.E. Smith basketball coach Ike Walker is deserving of the accolade. Walker, 87, was the longtime boys basketball coach at E.E. Smith High School and a 2010 inductee into the Fayetteville Sports Club Hall of Fame. He died on July 30 after a long illness.
You get a sense of his status as legend talking with the people who were closest to him, his former players, many deserving consideration for that title themselves.
Take Robert Brickey, a basketball phenom for Walker's E.E. Smith team in the mid-1980s before going on to star for Mike Krzyzewski at Duke.
"If I could summarize it, he was a man who cared about young people, and he tried to model what he thought they should be,'' Brickey said.
Charlie Baggett had an even stronger tie to Walker. He was his nephew and a sensational E.E. Smith quarterback in the early 1970s before setting a slew of passing records at Michigan State.
Walker came from a family of a dozen children, and Baggett said Walker and Baggett's mom were the only two of the 12 that went to college, Walker attending North Carolina A&T.
"When you're a coach and teacher, you wear a lot of different hats,'' Baggett said. "He touched a lot of lives in a lot of different ways.''
He was also a poet and a philosopher. He sent countless handwritten notes and cards to friends and acquaintances.
One of the many people he wrote was Joe Harris, a football great from Smith who starred at Georgia Tech and became the first Fayetteville high school product to play in the Super Bowl, as a member of the Los Angeles Rams in 1980.
Harris remembers the notes and life lessons Walker shared.
"He always pushed education,'' Harris said. "To know who you are. Where you come from. Where you're going in life.''
But Harris' best memory of Walker is how he took care of his players, including himself.
One rainy afternoon after practice, Walker told Harris to get in his car so he could give him a lift home.
Harris lived where the roads weren't paved and were filled with bumps. Walker drove a shiny black Ford that he kept in immaculate condition.
As they approached the road to Harris' house, he told Walker to stop and not mess up his car.
"He said, 'No, I'm going all the way,'" Harris said. "That's the type of person he was.''
Ike Walker spent a lifetime going all the way for kids, pulling them through the messes of life to hope and success.
The gospel of Matthew said it best. "Well done, good and faithful servant."
Photo: Ike Walker