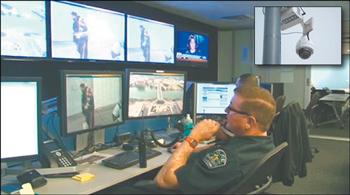 The Fayetteville Police Department's system of surveillance cameras is still not fully functional. It went down two years ago, and according to police spokesman Sgt. Shawn Strepay, "a portion of the system is up and running and other portions remain down."
The cameras were purchased and installed with drug forfeiture funds. "The latest hurricane was a setback and caused additional damage to the system," Strepay added. That was more than a year ago.
Dozens of cameras were initially installed, most of them in the downtown area. They can be monitored in real time at police headquarters. "We are currently going through the process of upgrading the system's infrastructure to include hardwiring portions of the system with fiber optics, instead of relying only on a wireless system," Strepay said.
The new FAST Transit Center on Robeson Street has its own system of exterior surveillance cameras that are monitored live, Strepay said. Recordings are also made, and the footage can be reviewed when necessary.
Voter information updating
In the past, local voters who failed to cast ballots on a regular basis had their names purged from the system, requiring that they re-register. The Cumberland County Board of Elections recently mailed biennial list maintenance notices to 13,169 registered voters to ensure their voter information is current. The notices were sent to registered voters who had not voted in two consecutive federal election cycles. They included address confirmation cards with instructions that they be filled out and returned.
"We encourage voters that receive the biennial list maintenance notice from our office to please respond," said Board of Elections Director Terri Robertson. Voters who do not return their cards will be marked inactive. They will still be registered but will be asked to update their addresses the next time they vote.
Voters may also update their records at the Board of Elections office, 227 Fountainhead Ln. The office is open Monday through Friday, from 8 a.m.-5 p.m.
Another cold case cleared
The Fayetteville Police Department's Special Victims Unit, with assistance from the U.S. Marshals Service, has charged a suspect with a rape that occurred nearly 30 years ago. An investigation from Nov. 20, 1990, revealed the victim was kidnapped at Mazarick Park and sexually assaulted, after which the suspect stole her vehicle.
The case remained unsolved until Nov. 2017, when detectives learned that DNA from the crime scene had been linked to a Wilbur D. McGill, 54, of Torbay Drive.
He was recently located in Orange County, Florida, and charged with first-degree rape, first-degree kidnapping, robbery with a dangerous weapon, larceny of motor vehicle and possession of a stolen motor vehicle. McGill is being held in Orange County pending extradition to North Carolina.
Town hall community development meetings
Cumberland County Community Development is holding town hall meetings to provide information about various housing programs and other activities offered to eligible Cumberland County residents through the Community Development Block Grant and Home Investment Partnership Program. Feedback is welcomed from community residents. It helps the department prioritize projects to be undertaken during the 2019 program year.
Several meetings have taken place. Those still scheduled will be held Jan. 28 at 7 p.m. — Godwin Town Hall, Godwin; Feb. 4 at 7 p.m. — Falcon Town Hall, Falcon; Feb. 11 at 7 p.m. — Spring Lake Town Hall, Spring Lake; Feb. 12 at 7 p.m. — Wade Town Hall, Wade; and Feb. 19 at 7:30 p.m. — Linden Town Hall, Linden.
For more information, contact Community Development at 910-321-6112 or online at www.co.cumberland.nc.us/departments/communitydevelopment-group/community_development.