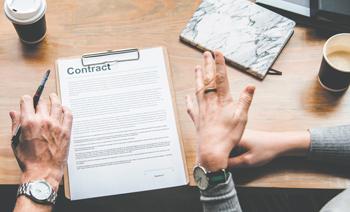 The new director of the U.S. Consumer Financial Protection Bureau has asked Congress for explicit authority to strengthen its enforcement of financial protections for service members. Kathleen Kraninger wants specific authorization to conduct examinations of payday lenders and others under the CFPB's jurisdiction to ensure the lenders are complying with the Military Lending Act.
Kraninger's appointment to the CFPB came under scrutiny in the Senate in December. She was a littleknown government employee. Her nomination was narrowly approved along party lines.
A 2006 Department of Defense report detailed the harmful effects of high-interest loans on service members and on military readiness. In 2015, the Department of Defense tightened its implementing regulation to help prevent lenders from evading the rules. But last year, under then-acting CFPB Director Mick Mulvaney, the agency pulled back from its regular examinations of payday lenders, saying it didn't have the authority to do those exams.
In announcing her legislative proposal, which was submitted in January, Kraninger said the bureau's commitment to the well-being of service members "includes ensuring that lenders subject to our jurisdiction comply with the Military Lending Act."
The law limits interest rates that can be charged to active-duty service members and their dependents to an annual percentage rate of 36 percent. Young service members, who are particularly vulnerable to these lenders, aren't necessarily aware of complex laws that protect them and might not file complaints. Kraninger noted she was pleased to see the legislation proposed recently in the House of Representatives.
The North Carolinas General Assembly has resisted efforts of payday lenders and other creditors to foist their high interest rates, often in the triple digits, on the people of this state. During years of back and forth on predatory lending, federal legislation has been inconsistent. Two years ago, a bill written by Congressman Patrick McHenry of western North Carolina would allow lenders with the most harmful lending practices to do business in the Tar Heel state.
The North Carolina Consumer Finance Act governs check-cashing businesses and prohibits cash advances under some circumstances. A company known as Online Cash 4 Payday declares on its website that "borrowers looking for loans without a credit check or who have bad credit will need to look for alternative forms of financing."
North Carolina installment loans and personal loans are available and legal. There are dozens of small-loan and check-cashing store-front companies in Fayetteville. Online Cash 4 Pay said, "we are here to give you access to the money you need when your (sic) in a pinch … whether your (sic) needing a cash advance, installment loan, personal funds for debt consolidation, title loan, or any type of financial advance."
In anticipation of a proposal to revise debt collection rules expected in March, advocates from 74 national and state consumer groups sent a letter to Kraninger urging the bureau to focus on protecting consumers from abusive debt collection practices.