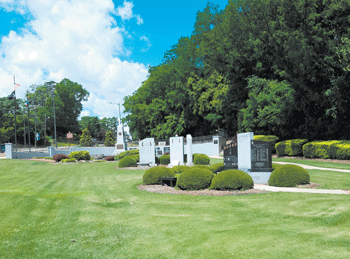 Fayetteville's annual Memorial Day Ceremony at Freedom Memorial Park is set for Monday, May 27, at 11 a.m. Bleacher seating for 300 will be available, but the seats typically fill quickly. Attendees can also bring lawn chairs for seating. Parking is available at the Airborne & Special Operations Museum, 100 Bragg Blvd.; and the Medical Arts building, 101 Robeson St. A gateway to downtown, the park includes graceful monuments honoring military veterans of World War I, World War II, the Korean War, the Vietnam War and the global war on terrorism. The ceremony ensures the sacrifices of those who fought for our freedom are never forgotten.
The Cool Spring Downtown District is partnering with the ASOM Foundation in support of the 12th Annual Field of Honor. Since its inception in 2008, The North Carolina Field of Honor has been an annual tradition in downtown Fayetteville.
Through June 27, hundreds of flags fly on the parade ground between the ASOM at 100 Bragg Blvd. and the North Carolina Veterans Park. Each flag comes with its own story and displays a tag identifying both the person who sponsored the flag and the honoree. This display of heroism flies as a patriotic tribute to the strength and unity of Americans. It honors all who are currently serving, those who have served, and the men and women who have made the supreme sacrifice for our nation's freedom.
Flags may be purchased to honor the memory of veterans or current service members. To sponsor a $35 Field of Honor Flag, visit the ASOM Gift Store.
May 25 is 4th Friday. Starting at 6 p.m. downtown, there will be big-band music at the Headquarters Library and the opening of the "Dance of Art in India" exhibit at Cape Fear Studios. Saturday, May 26, Spring Lake's Memorial Day Tribute begins with a parade at 10 a.m. at Veterans Park at Ruth and Main streets. Soldiers from Fort Bragg will participate in the ceremony.
Monday, May 27, the U.S. Special Forces Command Memorial Day service is at 10 a.m., at Memorial Wall, United States Army Special Operations Command.
Also on May 27, join the Fort Bragg Chapter of Wear Blue: Run to Remember at the Memorial Day event to be held at the Jordon Soccer Complex on Treetop Drive in Fayetteville. This event begins with a Circle of Remembrance ceremony, when the names of fallen service members are spoken aloud. Afterward, the group unites as a living memorial for the fallen service members with a self-paced run or walk.
Hope Mills has long paid tribute to fallen members of the military on Memorial Day. The tribute will take place May 27, at the war memorial located adjacent to the Hope Mills Recreation Center on Rockfish Road at 4 p.m. Several groups and organizations will take part in the ceremony, and the general public is invited to attend.