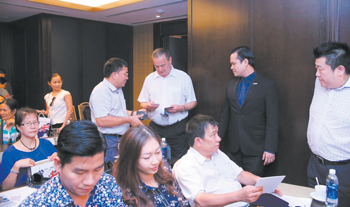 The next Fayetteville Citizens Academy class is set for Wednesday, Aug. 14, at Kiwanis Recreation Center, 352 Devers St. Class begins at 8:30 a.m. and features officials of Fayetteville-Cumberland Parks & Recreation and the Development Services Department.
Applicants must be city of Fayetteville residents or work in Fayetteville. The class size is limited to 25 residents. This session will conclude at or before 5 p.m. To apply, log onto www.fayettevillenc.gov/citizensacademy, scroll to the bottom of the page and download the application.
Applicants will be notified of their acceptance by close of business Friday, Aug. 9.
"The Citizens Academy gives residents an opportunity to see city of Fayetteville employees at work, up close and personal," said Corporate Communications Director Kevin V. Arata. Lunch will be provided, and residents are asked to dress appropriately for the weather in business casual attire and closedtoe shoes. There will be some walking involved during tours of city facilities.
Splash pads are popping up all over the county
The Cumberland County Board of Commissioners and town of Linden leaders have cut the ribbon on the fifth splash pad opened in rural areas of Cumberland County this year. The water feature is at the Linden Little River Park, located at 5010 Loop Rd. Hours of operation are Monday through Saturday 10 a.m. to 7 p.m. (3-7 p.m. when school is in session) and Sundays from 2-7 p.m.
Eastover and Wade splash pads opened May 22, Godwin on May 31 and Gray's Creek on June 7. Each of the splash pads cost between $230,000 and $250,000, according to Fayetteville/Cumberland Recreation and Parks Director Michael Gibson.
The Linden water feature is 1,000 square feet and was funded by Cumberland County recreation dollars as were the other four. The pad is wheelchair accessible and features a Super Splash and Aqua Dome. Future projects include a shade structure, additional playground equipment and an additional parking lot.
Kids may have the summer off, but parents don't
Even though school is out for the summer, parents might like to know what their children will need for the upcoming school year this fall. Cumberland County Schools has a one-stop resource that will answer all your questions. It's called the 2019-2020 Back-To-School Guide. It contains 26 pages of information about the school calendar, needed school supplies, open house schedules, lunch prices, bell schedules and more. This parent resource can be found on the Cumberland County Schools website, http://ccs.k12.nc.us, or at btsg.ccs.k12.nc.us.
Cornhole a popular recreational sport
The Fayetteville Woodpeckers have announced the inaugural edition of its Cornhole Tournament to take place at Segra Stadium on Saturday, Aug. 17. At 3 p.m. that day, teams and spectators can begin entering for registration. Beginning at 4 p.m., registered teams of two are invited to compete for a $250 cash prize for first place and a $100 cash prize for second place. With 50 team slots available for the tournament, fans and competitors are asked to register for the event no later than Friday, August 2.
Each two-person team will feature one captain and one partner. Both competitors will receive complimentary Fayetteville Woodpeckers T-shirts and drink Koozies. Registration is $50 per each twoperson team. Registered teams can also save up to $9 on tickets when purchasing at least two general admission tickets to any upcoming Woodpeckers home game.
Gilbert Theater loses an artist
The board of directors of the Gilbert Theater has reluctantly accepted the resignation of Matthew Overturf as artistic director, effective Jan. 31, 2020.
"All of us are very grateful for Matthew's enthusiasm, vision and excellent contributions to the Gilbert Theater over the past three years," said a news release from the theater. "The demands of his full-time faculty position will make it impossible for him to continue as the Gilbert's Artistic Director," the statement continued.
The Gilbert Theater board of directors has begun a search for a new artistic director. For more information, including the job description, visit www.gilberttheater.com.
Fayetteville gets one of the first new generation Dunkin' Donuts
Fayetteville has a new Dunkin' Donuts on Bragg Boulevard. "The launch of our next generation concept store marks one of the most important moments in Dunkin's growth as an on-the-go, beverage-led brand," said Dave Hoffmann, president of Dunkin' Donuts North American business, in a statement. "Our new look represents both our heritage and our evolution as the brand that fuels optimism and keeps America running with great coffee, donuts and more," said Tony Weisman, chief marketing officer, Dunkin' U.S.