Fayetteville Area Operation Inasmuch has had a strong presence in this community for a long time. The nonprofit organization is set to celebrate two special anniversaries in the coming weeks, and the public is invited to participate. The organization will host a 10th anniversary and 13th anniversary celebration Monday, Aug. 5, through Friday, Aug. 9.
"We are celebrating ... our 10-year anniversary for our breakfast program, where we serve the homeless and the poor here in the greater Fayetteville area, and we are celebrating our 13th anniversary as an organization," said Rev. Ronald Rallis, deputy director of Operation Inasmuch. "For example, this morning we had over 105 individuals that we served breakfast to, and we had about 16 volunteers from the Elks Lodge and a church that wanted to come serve and minister to the homeless population."
Thirteen years ago, the founder of Operation Inasmuch, Sue Byrd, started the organization with a couple of people. They had the vision of seeing a ministry on Hillsboro Street that would serve the poor and the homeless in the area.
"St. Luke AME Church donated the facility that is here at 531 Hillsboro St.," said Rallis, "and we have been serving breakfast for the last 10 years. It grew from that. When we say serving breakfast, that means we do it restaurant style.
"Last year, we served over 23,000 people and had the privilege of having more than 9,000 volunteers from over 100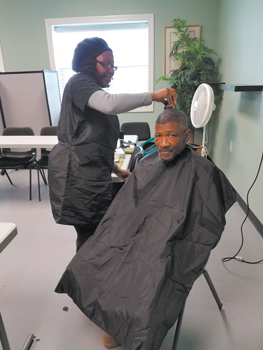 churches, businesses and professional organizations to come and serve every weekday morning."
Rallis noted that the organization added some houses and built a lodge two years ago, across the street from the breakfast program. It is a transitional work program lodge that has 40 beds for men who no longer want to be homeless.
"In order to become a part of the program, they have to come to the breakfast first at 7:30 a.m. to register, and (they) become a family member," said Rallis. "They will meet with our family services coordinator, Sheri Duarte, who will give them an overall briefing as to what services are being offered."
Rallis added that Operation Inasmuch is the only place in Fayetteville that works with the Fayetteville Police Department in providing identification cards for the homeless.
"Aug. 5-9 is a weeklong celebration of our 10th anniversary of serving breakfast and our 13th anniversary of the ministry itself," said Rallis. "This whole ministry is 10:13, which references Romans 10:13 that says, "And all that call on the name of the Lord shall be saved."
During the celebration, the following organizations, groups or individuals will serve breakfast as follows:
• Monday, Aug. 5: 15 philanthropic organizations — Kiwanis, The Elks, The Rotary
• Tuesday, Aug. 6: Civil service members — Judges, Cumberland County Commissioners, City Council
• Wednesday, Aug. 7: Businesses — Pep Boys, Staples, Peaden's

• Thursday, Aug. 8: Professionals — Law firms, dental offices, insurance companies
• Friday, Aug. 9: 15 churches
Aug. 7 is also Operation Inasmuch Baseball Night at Segra Stadium at 7 p.m. "We would love for everyone to come out and support (this event)," said Rallis. "We are giving God the glory of allowing us to be able to serve the community." Tickets for the baseball game cost $12.
Operation Inasmuch offers a variety of other services, including counseling, family services, dental missions of mercy, eye glasses, haircuts, hygiene and grooming products, resume preparation and more. For more information, call 714-309-0814.
Fayetteville Area Operation Inasmuch provides a vast array of services to help homeless and low-income people in the area get back on their feet.