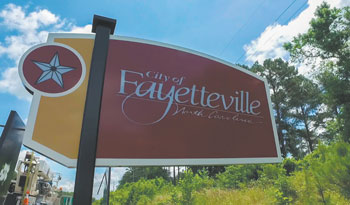 This year's Fayetteville City Council primary may be the most lackluster election in modern memory. Only two of the 10 seats are contested — Districts 2 and 6. Fayetteville's primary election is Oct. 8, with early voting underway through Oct. 4, at the Cumberland County Board of Elections office. The general election for the city and local towns is set for Nov. 5. The dean of city council, William Crisp, chose not to seek re-election after serving six consecutive terms as the District 6 representative. Three newcomers have filed to succeed him: Christopher Glenard Davis, Mary Johnson Ferguson and Carlos Swinger. Councilmember Daniel J. Culliton was appointed to represent District 2 on the city council on June 25, 2018. He decided not to run this year. His seat is also being sought by a trio of candidates: Janene Marie Ackles, Arnita Mace Bristol and Shakela Matrice Ingram.
Fort Bragg commanding general returning home

The latest leadership turnover within the U.S.-led coalition battling Islamic State militants in Iraq and Syria has taken place. Lt. Gen. Pat White assumed command of Operation Inherent Resolve from Lt. Gen. Paul LaCamera in a ceremony in Baghdad on Sept. 14. White commands the Army's III Armored Corps, and LaCamera leads the XVIII Airborne Corps at Fort Bragg. Both units have been trading off command of the coalition for the past several years. Both headquarters have "created an unstoppable momentum" in the anti-ISIS fight, said Marine Gen. Kenneth McKenzie, head of U.S. Central Command, who presided over the ceremony.

LaCamera and his 400 headquarters paratroopers assumed command of the coalition a year ago and led the alliance of 76 countries and five international organizations during a period that included the ouster of the terrorist group from its last stronghold in Syria this past March. The unit's soldiers returned home Sept. 15. During LaCamera's tenure, the coalition trained nearly 60,000 Iraqi and Kurdish security forces troops to secure the region, the Army said in a statement.

LaCamera thanked service members and coalition partners for their dedication to the mission.
Seat belt safety project

A unique program that seeks to educate people about the dangers of not wearing seatbelts starts this month in Robeson County. The program allows people cited for not wearing seatbelts to have the tickets dismissed by the Robeson County district attorney if they complete a free, two-hour course at Southeastern Regional Medical Center called "Saved by the Belt."

Robeson County officials are hopeful the program will reduce the number of people killed because they weren't wearing seat belts during a crash. Drivers will learn the physics behind a crash, the causes of most crashes, North Carolina laws and myths about seat belt use.

"We want people to realize how deadly not buckling up can be if you're in a vehicle crash," said Skyla Pryor, the program coordinator for Southeastern Health.

In Robeson County, 82 people who did not buckle up or use child car seats were killed in crashes between 2014-18. In May, the North Carolina Governor's Highway Safety Program awarded Southeastern Health a $44,740 grant to launch the safety classes. Interested residents can register by going to southeasternhealth.org and looking under the "calendar of events" tab.
E-cigarettes or vapes

Service members are being told to avoid vaping after the Centers for Disease Control and Prevention said the habit may be linked to hundreds of cases of severe lung disease, and at least six deaths, in dozens of states. The Army Public Health Center issued an alert last week warning soldiers and family members to avoid all electronic cigarette and vaping products, "particularly those sold off the street or modified to add any substances not intended by the manufacturer." Soldiers and their loved ones may want to discontinue using products including e-cigarettes, e-hookahs, vape pens and electronic nicotine delivery systems until the CDC completes its investigation, the Defense Health Agency said in a post.
Musical festival scheduled

The All-American City Jazz Festival is the first city-sponsored event to be held at Segra Stadium following the end of baseball season. It will be held Friday through Sunday, Oct. 25-27. The festival will be presented by the Sandhills Jazz Society and Fayetteville-Cumberland Youth Council. Friday, Oct. 25, at 7 p.m., the BlackWater Band and the Embers featuring Craig Woolard will perform. On Saturday, Oct. 26, at 4 p.m., jazz stars Willie Bradley, Avery Sunshine, Julian Vaughn, Eric Darius and Brian Culbertson will hit the stage. And Sunday, Oct. 27, at 4 p.m., local high school and college jazz students will honor legends of the same genre with musical performances.
"The Arts Council is pleased to partner with the city of Fayetteville in support of the All-American City Jazz Festival," says Greg Weber, president and CEO of the Arts Council of Fayetteville/Cumberland County.
A $7,500 Project Support Grant was given to the city to fund the jazz festival.