It's the annual loose-leaf curbside season in Fayetteville, through Feb. 21. Residents are supposed to put their leaves and pine straw at the curb during the periods specified for pickup in their neighborhood. The city has created eight collection cycles based on postal ZIP codes. For example, if you live in the 28301 ZIP code area, your pickup period is Dec. 9 -20. Details are available on the city of Fayetteville's website. Free trash bags are available at recreation centers and city fire stations. Officials ask that residents rake their leaves and pine needles to the curb by the day before their first scheduled collection day. Put the pile on the right of way but not in the street and away from obstructions.


Additional sections of I-95 to be widened

Thanks to a $22.5 million federal grant, the North Carolina Department of Transportation plans to widen and improve 27 additional miles of Interstate
95 in Robeson and Cumberland counties. It is the second major federal grant the NCDOT has received since the summer of 2018 to help fund major improvements along the I-95 corridor. The grant will help DOT improve mobility and safety along a section of I-95 that has been plagued by flooding during hurricanes. The interstate between mile markers 13 and 40 from Lumberton to near Hope Mills will be widened.

"These grants are highly competitive, and will help us modernize Interstate 95 in North Carolina," said Grady Hunt, the North Carolina Board of Transportation's representative from Robeson County. DOT will also raise portions of I-95 in low-lying areas that are vulnerable to floods. An earlier grant received for I-95 improvements came in June 2018 when $147 million was awarded for I-95 and U.S. 70 improvements. The grant was earmarked for widening two sections of I-95 north of Fayetteville to eight lanes.


Military retirement COLA increased for next year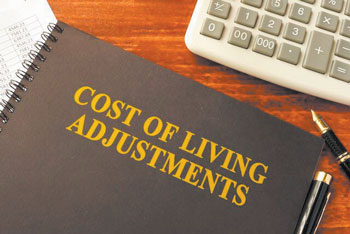 Military retirees and eligible survivors will receive a 1.6% boost in their monthly paychecks beginning in January, based on the Pentagon's annual cost of living adjustment, the Defense Department announced. The increased pay will be doled out to most military retirees, survivors of service members who died on active or inactive duty and survivors of retirees who participated in the Survivor Benefit Plan, which pays the family of someone who opted for monthly annuities following the death of an eligible military retiree. The Pentagon said the annual boosts are based on inflation numbers during the previous year as determined by the Consumer Price Index for Urban Wage Earners and Clerical Workers, a monthly measure of average changes to prices for goods and services across the nation. For retirees and survivors receiving the 1.6% boost, the increase amounts to an extra $16 for every $1,000 in government benefits received. Individuals who retired at the pay grade of E-7 and served 20 years will see about $38 extra per month. An individual who retired at the pay gradeof O-5 and served 20 years will see a $72 boost each month of 2020.


Fayetteville's hometown utility wins award

The Fayetteville Public Works Commission has earned a Smart Energy Provider designation from the American Public Power Association for demonstrating commitment to and proficiency in initiatives that support providing low-cost, quality, safe and reliable electricity. The designations were announced during the association's annual Customer Connections Conference held in New Orleans, Louisiana. The SEP two-year designation recognizes public power utilities for demonstrating leading practices in four key disciplines. This is the first year the association has offered the SEP designation. PWC is one of more than 60 public power utilities nationwide that were acknowledged, and one of two North Carolina public power utilities recognized this year. "We're honored to be recognized for our efforts to support our community's responsible energy use," said David Trego, PWC
CEO/general manager. PWC's initiatives noted in the designation include its community solar and battery storage project, time of use electric rates and customer incentive programs promoting energy conservation.


Alzheimer's Association picks up big supporter

CVS Health has joined the Alzheimer's Association in the fight to end Alzheimer's as a new national, corporate partner. CVS Health has made a three-year, $10 million minimum commitment to the Alzheimer's Association, including customer fundraising, caregiver support and national presenting sponsorship of the Walk to End Alzheimer's. CVS Health and the Alzheimer's Association launched this new partnership this month. CVS is the largest pharmacy health care provider in the United States with more than 295,000 colleagues across all 50 states, Washington, D.C., and Puerto Rico.