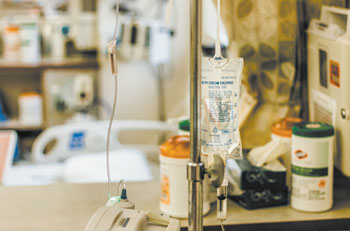 This is a first-person report that my colleagues at Up & Coming Weekly thought would be interesting and perhaps helpful to readers. I dare say, most people know someone who has cancer. Many of us are experiencing the dreaded disease. I am one of the many. Until a year-and-a-half ago, I had never heard of porocarcinoma. It's a rare malignancy of the eccrine sweat glands. Unlike the more common forms of skin cancer, it is unrelated to sun exposure.

Eccrine porocarcinoma mainly occurs in the elderly. I just turned 78. The most common presentation of this cancer is an ulcerated red, dome-shaped nodule. Porocarcinomas are typically slow-growing tumors most often diagnosed on the lower legs or feet but may also affect the trunk and head. My cancer first appeared as a bump on my forehead in July of 2018. Technologists at the Polley Dermatology Clinic, where I had a biopsy, were unable, initially, to diagnose the nodule.

A second laboratory determined it was porocarcinoma. I'm told there are only about 600 confirmed cases of the disease.

I was referred to the Cary Skin Center, an outpatient surgical center specializing in Mohs Micrographic Surgery for the removal of skin cancer. Dr. Robert E. Clark performed the operation. Layers of skin are removed one at a time and examined under a microscope until noncancerous margins are established. Six weeks of radiation treatment followed at Cape Fear Valley's Cancer Center.

I learned that surgery cures porocarcinoma in up to 80% of cases. About 20% of patients will have local recurrence and metastases. Sure enough, a second nodule popped up on my forehead near the area that had been excised.
I sought advice from Dr. Shirish Devasthali, an oncology specialist with Cape Fear Valley Health System. Given the unusual nature of my cancer, he suggested that I see someone at the University of North Carolina Cancer Hospital in Chapel Hill — where I now have a team of three oncology physicians and a Mohs surgical dermatologist, Dr. Brad Merritt.

He excised the second 'pop up' as well as a third growth nearby, which he suspected might also be a porocarcinoma. Surgical incisions require daily care so they will heal quickly without becoming infected. I have my daughter, Angie, to thank for changing my bandages every day. I call her my surgical assistant. All three of the incisions have healed nicely without the need for skin grafts.

Soon after the first of this year, the lymph node on the left side of my face swelled up and minor soreness occurred internally below my left ear. Not a good sign, I thought. Dr. Michael Myers, a UNC surgical oncologist, suggested a PET scan, which revealed a small marker next to the carotid artery. At about the same time, another of my UNC doctors, medical oncologist Dr. Frances Collichio, suggested immunotherapy. The immune system is a powerful weapon against disease. Immunotherapy is a cancer therapy designed to stimulate the body's immune system.

Interestingly, there is no established medical protocol for the treatment of porocarcinoma. Radiotherapy, chemotherapy and acitretin have been used against this cancer with varying degrees of success. A new drug that I am receiving, Keytruda (Pembrolizumab), inhibits the growth and spread of cancer cells and accelerates white blood cells that are of key importance to the immune system. So-called T-cells are like soldiers who search out and destroy targeted invaders. T-cells, also known as "killer cells," kill cancer cells.

The Food and Drug Administration approved Keytruda, manufactured by Merck, on an "accelerated" basis in 2014. In 2015, Keytruda received national attention because former president, Jimmy Carter, revealed he received the drug for advanced melanoma and responded to it favorably.

Dr. Collichio worked out an arrangement with Cape Fear Valley Health System for Keytruda infusions so that I wouldn't have to travel to Chapel Hill as often. My case was assigned to Dr. Mikhail Vinogradov at Cape Fear Valley's Health Pavilion North Cancer Center.

To make sure the Keytruda stays focused on my cancer cells, I have blood drawn before each infusion. After the infusion, it's examined by "Dr. V." as I call him. The recommended dosage is 200 mg slowly administered as an intravenous infusion once every three weeks. So far, I have had four infusions in the cancer center's chemo suite, where half a dozen Cape Fear Valley oncology nurses take care of a dozen patients at a time. They are the best, making all of us feel comfortable and well cared for. While side effects are common, I am fortunate to have experienced none.

Eighteen months into my cancer treatment, so far so good! The lymph node swelling has gone down, and there is no more soreness in my jaw. I was told a couple of weeks ago that radiologists determined the most recent scan I had indicates the small object near the carotid artery is virtually insignificant. They don't know for sure if it's a tumor. And, while a new porocarcinoma nodule could develop, there is no indication at this time. Knock on wood!