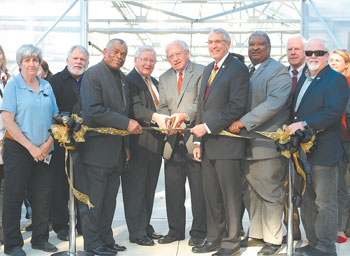 Faculty, staff and students at Fayetteville Technical Community College celebrated the opening of a large, state-of-the-art greenhouse on Dec. 5.

The new greenhouse at FTCC's Wesley A. Meredith Horticulture Educational Center, adjacent to the Cape Fear Botanical Garden, replaces one that was destroyed last year by floodwaters from Hurricane Florence.

Local and state officials, community members, and representatives from two congressional offices joined the FTCC community for a ribbon-cutting ceremony. The new greenhouse is bigger and better than its predecessor, with numerous unique characteristics. Its features include a double-door entrance, an evaporative cooling system and a sidewall roll-up with motorized curtains. It is also built to the standards of the Americans with Disabilities Act — a first — and its site has been raised nearly 10 feet. It is now level with the neighboring Horticulture Educational Center, which was not flooded during Hurricane Florence.

The project was funded by the Hurricane Florence Disaster Recovery Fund, which was established by the North Carolina General Assembly.

During an address before the ribbon-cutting, FTCC President Dr. Larry Keen asked students from the Horticulture Technology program to join him near the podium.

"Why we do the work we do is represented up here," Keen said of the students. "They are the ones who not only hold tomorrow in their hands but today in their hands as well. These are our students. These are the ones we work for every single day."

The ceremony's guest speaker, North Carolina Rep. John Szoka, reminded the audience of the damage caused by Hurricanes Matthew and Florence in 2016 and 2018. Szoka said efforts by the legislature — including Rep. Elmer Floyd who was in attendance — helped create a reserve fund to aid in rebuilding.

"What we do in Raleigh is important," Szoka said. "We do it because we love our community."

Construction on the new greenhouse began in August. Pamela Gibson, FTCC's dean of engineering and applied technology, expressed excitement about the greenhouse; the horticulture program falls under her department.

"It has been a long road since we lost the last one," Gibson said. "The hurricanes were devastating, but the silver lining is because of the hurricane recovery funding, we have a state-of-the-art greenhouse."

The previous greenhouse, built in 2008, was the location of "Greenhouse Operations," a course required for an associate degree in horticulture technology. Students learned about growing plants, temperature control, irrigation and more. After the original greenhouse was destroyed, the course moved to a smaller conservatory and plants were watered by hand, said Dr. Robin Pusztay, department chair for Horticulture Technology. The program went without a greenhouse for a year — until now.

After the ribbon-cutting, people toured the greenhouse and spoke with students about the building and the plants inside — annual flowers, peppers, herbs and even pogonias, a type of orchid. A handful of guests left with more than they had arrived with — a plant grown by a horticulture student.