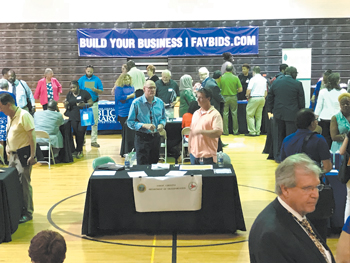 If you are a local business owner or are looking to start a new venture, the Building Business Rally, which will be held on Jan. 30, is a must for you.

"This could have one of the biggest impacts on keeping dollars local than any other event this year," said Christine Michaels, president and CEO of the Greater Fayetteville Chamber.

The event will be held at the Ramada Plaza, 1707 Owen Dr., from 2-6 p.m., and features purchasing and procurement representatives for Fayetteville and Cumberland County's largest buyers who have over $1 billion of needs and opportunities for local vendors, regardless of your business.

"To have the purchasing staff from the major companies and government entities all in one place, and all with dollars to spend, is an unbelievable opportunity for local businesses to make the right connections," said Michaels.

Robert Van Geons, president and CEO of the Fayetteville Cumberland Economic Development Corporation, said the Building Business Rally is significant for our community. "These major organizations spend hundreds of millions of dollars each year, and if they have to go out of Fayetteville/Cumberland County to find businesses to meet their procurement needs, we are exporting that wealth to other people and places," said Van Geons. "Imagine if we spent all our public dollars here, how much better our community can be. Our hope with events like the Building Business Rally is by educating our entrepreneurs and future entrepreneurs, we can build that ecosystem, keep more dollars local and churn that funding through our local economy."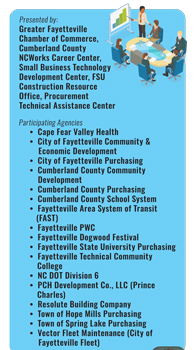 The town of Hope Mills is one entity looking to keep their dollars local and will be at the event. In the next five years, the town projects it will spend over $35 million on major projects, including the construction of the John W. Hodges Public Safety Building, design and implementation of the Heritage Park Masterplan, and the Hope Mills Golf Course Masterplan.

"As we continue to see huge increases in future economic development, focusing on our local contractor and vendor base is paramount to the growth of the base of local businesses in this region, " said Chancer McLaughlin, planning and economic development director for town of Hope Mills. "This event is so important to us because growing our local general contractor pool is vital to creating a sustainable tax base that ultimately results, not only in keeping local companies in business but also helping retain many of the local college students, creating opportunities for employment."

The Building Business Rally is part of a communitywide initiative by local elected officials to increase the amount of funding spent locally on the wide range of service, supply and equipment purchased by local government.

Michaels emphasized the event is for every type of business, and the needs of these organizations are not just construction. Suppliers, professional service providers and prime and sub-contractors of all sizes should attend.

"We are educating and engaging local businesses on how to work with us and the types of goods and services we need, " said city of Fayetteville Mayor Pro Tem Kathy Jensen. "We will be there because it's vital that our community foster an environment where businesses can thrive and grow. Even though you think you might not belong there, check it out and you may just find an opportunity that's perfect for you."

Michaels said one might equate the Building Business Rally to attending a job fair, only here you are connecting your business to organizations that have money to spend and are looking for local vendors to spend it with.

"Having attended a previous rally, I would encourage other businesses to bring materials such as a capability statement that tells them about your services, references that can talk about your performance and business cards because you want to make sure you stand out," said Michelle Horne, president and CEO of Landart Solutions. "Time is money. It's exciting to have a one-stop-shop and be able to participate in and find opportunities throughout the community in a short period of time."

Over 100 businesses are recognizing the potential opportunities available and have already registered to attend the Rally. James Suber, owner of JS Designs is registered and says as a small business, getting the word out is hard and the event makes that easier for him. "I am looking forward to it because I hope to get the word out about the services we have to offer and hopefully gain business. I think this is a great opportunity for us to introduce ourselves to the community."

Joel Angarita of BGS Services agrees that as a local small business, his biggest challenge is getting his company's name out to the community and says the Building Business Rally offers even more than promoting his services. "I also believe by attending, it will help recognize the gaps that aren't being filled here," he said.

This is an opportunity to introduce your company to 15 major organizations and tell them how you can help them and find out what they are looking for," said Ramona Moore, director of sales and marketing for Holiday Inn & Suites West/Fort Bragg.

Even with extensive involvement and a long work history in our community, Moore knows taking advantage of this opportunity is important to her and other local businesses. "As a new hotel, I need to get the word out, and this is the perfect (venue) for that. … I would tell all businesses to take advantage of this great event and don' t miss this opportunity."

The Building Business Rally is free to attend. Businesses are encouraged to preregister at www.faybids.com or can register at the door. All registrants will have their company information shared with the participating procurement representatives.