A business development gathering begun as an annual event four years ago by Fayetteville's Public Works Commission succeeded beyond expectations this year. "Of the 500 or so attendees, 300 were representatives of local businesses," said PWC spokeswoman Carolyn Justice-Hinson.

They took advantage of the opportunity to learn about the estimated $1 billion local governments and major companies have budgeted that they would like to spend locally. The Building Business Rally, held at the Ramada Plaza Hotel Jan. 30, made area business owners aware that Fayetteville and Cumberland County organizations depend on local companies to provide relevant and necessary goods and services. "Local engagement is what government agencies emphasize," when making purchases large and small, Justice-Hinson added.

"Learning about correct sources in the community was of great value," said Anthony Day of WMK Tiles.

A website is available for business owners for follow up: Faybids.com.


Early voting

Early voting for the March 3 primary election ends Feb. 29 at all seven locations in Cumberland County. They are the Board of Elections office, Cliffdale Recreation Center, North Regional Branch Library, Hope Mills Recreation Center, East Regional Branch Library, J.D. Pone Recreation Center and Smith Recreation Center. Voters will not be required to show photo identification for the March 3, primary election. A federal court blocked North Carolina's voter photo ID requirement from taking effect. The injunction will remain in place until further orders of the court. The March primary is for various federal, state and local offices including president, governor, North Carolina House districts 43, 44 and 45, judicial district 12 and two Cumberland County Board of Commissioners seats. Citizens who wish to vote must report to their home precinct. Polls for all precincts will open at 6:30 a.m. March 3 and close at 7:30 p.m. Call 910-678-7733 or go to co.cumberland.nc.us/election-board for more information.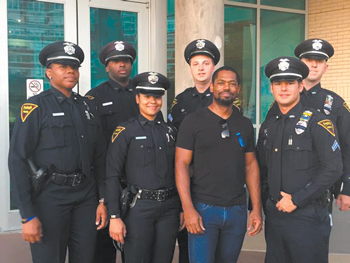 Home buying assistance for police officers

The city of Fayetteville has received a $50,000 check from First Horizon Bank for the Good Neighbor Homebuyer Loan Program. This program, to be administered by the city's Economic and Community Development Department, is designed to offer city police officers a depreciating loan of up to $20,000 for a down payment and closing costs. The homes must be in Fayetteville's revitalization corridors of Murchison Road or B Street.

"This provides our officers with a great opportunity to receive assistance with a home purchase within the city," said Police Chief Gina Hawkins. "I am very thankful for First Horizon Bank's graciousness in providing the money ... for this effort," Mayor Mitch Colvin added, "We encourage other businesses and organizations to consider such beneficial partnerships."


Fayetteville has been fire-fatality free for more than a year

For the first time in 10 years, there were no fire-related deaths in the city of Fayetteville in 2019. Across North Carolina last year, there were 117 fire-related deaths. The Fayetteville Fire Department responded to more than 29,000 calls for service in 2019. Four hundred sixteen calls were structure fires. The reduction in fire fatalities has been attributed primarily to the rapid response of the fire department and the dedication of residents who have smoke alarms and early detection devices in their homes.
"The importance of an early indication of fire in a dwelling is immeasurable," said Fire Chief Mike Hill.

The Fayetteville Fire Department will install smoke alarms free of charge. The Fayetteville Fire Department is rated class 1 by the Insurance Service Office, which is the best possible rating. A class 1 rating describes how well a fire department protects the community. Insurance companies also use the score to help set insurance rates.


South America airborne exercise

Approximately 75 paratroopers from the 82nd Airborne Division and 40 personnel from U.S. Army South wrapped up an airborne assault exercise Jan. 29. During the field maneuver, U.S. and Colombian paratroopers performed an airborne training insertion from C-130 Hercules aircraft, followed by tactical exercises designed to simulate the securing of an airfield. U.S. and Colombian personnel worked together to build interoperability and strategic and tactical expertise.

"We are honored to train with Colombia — a close friend of the U.S. and Global Partner to NATO," said U.S. Navy Adm. Craig Faller, commander of U.S. Southern Command, which routinely conducts multinational exercises throughout Latin America and the Caribbean to strengthen partnerships.


Tiny homes for homeless veterans

Super Bowl-bound Kansas City Chiefs quarterback Patrick Mahomes, 24, spends much of his spare time volunteering with a Kansas City-based organization that supports homeless veterans. One of the project's initiatives is a community of 49 tiny homes built to get down-on-their-luck veterans off the streets. Fayetteville City Council recently heard a presentation from a Greensboro-based firm that builds tiny homes, some of which are set aside for homeless vets.

"It's awesome, just to be a part of this … and help out some veterans of our country," Mahomes said. "It's something that's truly special."

Along with these 240- to 350-square-foot homes, occupants are provided with utilities and food. Mahomes' volunteer work is separate from his personal charity. His foundation focuses on aiding underprivileged children by supporting 15 different local youth charities. With less than a week until Super Bowl Sunday, Kansas City is ready to cheer on Mahomes as he leads his team into its final game of the season.