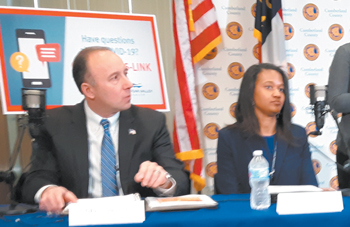 Local government officials have declared a state of emergency in Cumberland County. County Commission Chairman Marshall Faircloth and Fayetteville Mayor Mitch Colvin announced their decisions at a joint news conference on March 16. The community's first case of positive coronavirus was confirmed the next day at Fort Bragg. A civilian employee who lives in Harnett County was diagnosed and is now in isolation. "This is a proactive measure to ensure we have the flexibility and resources needed," Faircloth said.

The declaration activated the county's emergency operations center and authorized the county to take appropriate action to protect the public welfare.
Gov. Roy Cooper ordered all restaurants and bars closed for dining in to dampen the spread of COVID-19. County Manager Amy Cannon suspended all county employee travel and all events — unless they are mandatory — through the end of the month. The county postponed its six-week citizens' academy as well as all programming at the Cumberland County Public Library system. The headquarters library downtown and seven countywide branches are closed. Meetings by organizations scheduled at the department of social services and the health department have been canceled. "We will keep the public updated on any changes through the COVID-19 webpage on our website at co.cumberland.nc.us and our social media platforms," Faircloth said.

Mike Nagowski, CEO of Cape Fear Valley Health System, was direct in his prediction about the pandemic reaching Cumberland County. "It's just a matter of time," he said at the news briefing. "This virus is serious, especially among the elderly."

Nagowski told media representatives the health system has enough respirators for now but that more will likely be needed.

Dr. Jennifer Green, the county's public health director, said a limited number of available test kits are being reserved for those with symptoms and have had negative flu tests. "We know the state has a limited capacity for testing," she said. "We want to make sure that those who are symptomatic ... have testing available to them."

Court cases scheduled through April 17 will be rescheduled for at least 30 days, with limited exceptions. North Carolina Chief Justice Cheri Beasley entered an order implementing measures to curb the spread of COVID-19 and minimize the risk of exposure caused by crowded sessions of court. Information on the court schedule is also posted on the county website at co.cumberland.nc.us.

PWC said that through March 30, it will not disconnect utility services for nonpayment. Bills are not being waived, but customers will have additional time to pay. Customers must call to arrange payment plans. PWC's Customer Service Payment Center is closed to walk-in traffic through the end of the month. The drive-thru will be open during normal business hours. All other customer service transactions can be conducted by phone, at 910-483-1382, Monday through Friday. FAST Bus Service to the PWC Payment Center has been suspended.

Residents with questions about coronavirus can call Cape Fear Valley Health System at 910-615-LINK (5460). Also, the county has opened a general information line about county services at 910-678-7657. The public is encouraged to seek information from credible sources, Green said, including the Cumberland County COVID-19 webpage at co.cumberland.nc.us/covid19 and the North Carolina DHHS website at ncdhhs.gov.