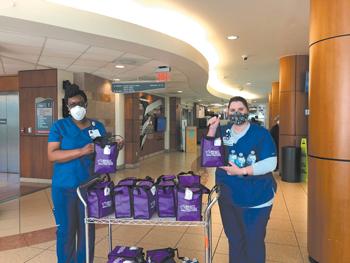 Sabrina Brooks and Major Gifts Officer Marge Betley from the Cape Fear Valley Health Foundation were on hand April 22 at Cape Fear Valley Hospital to greet Bragg Mutual Federal Credit Union CEO and President Steve Foley and District 45 State Rep. John Szoka as they delivered 200 lunches to dedicated and hardworking hospital staffers and nurses.

Bragg Mutual has three locations in Fayetteville and Cumberland County and is a full-service financial institution dedicated to helping local residents better their financial status through education and thrift. According to Foley, Bragg Mutual and its employees wanted to recognize the health service workers and thank them personally for their sacrifices during this COVID-19 crisis.

The very next day, Foley and Bragg Mutual Volunteers took another 200 lunches to the VA Medical Center on Ramsey Street, where nurses and hospital staffers are working around the clock taking care of our veteran military service members who have served our country so gallantly.


That was 400 meals in two days. Bragg Mutual met the challenge with the assistance of local catering company The Vine/Two Brothers Catering owners by Brad and Kelley McLawhorn. Despite their current hectic schedule fulfilling a massive and demanding daily contract for Fort Bragg, the McLawhorns collaborated with Bragg Mutual to prepare the 400 healthy individual boxed lunches for the hospital and the VA staffers and nurses. Each prepared lunch included a fresh deli turkey sandwich, macaroni salad, potato chips and for dessert, a slice of Two Brothers' special carrot cake. Also, credit union members from Up & Coming Weekly and Rocket Fizz Soda Pop and Candy Shop also included an extra special gift — a sweet treat packet of candy. This heartwarming gesture was the near-perfect example of the people helping people philosophy that has made Bragg Mutual Credit Union such a valuable asset to the Fayetteville community for over seven decades.

Rep. Szoka, chairman of the board of Bragg Mutual, encourages such local community involvement. "Bragg Mutual Federal Credit Union has always been focused on helping our community, and we're glad to show our appreciation to our hardworking health care professionals throughout the area," said Szoka, an appropriate statement coming from the man who was chosen the 2019 National Volunteer of the Year by the National Association of Federally Insured Credit Unions. This prestigious award honors credit union volunteers who demonstrate leadership, dedication to Credit Union members, commitment to professionalism, service to Credit Union staff, and uphold the values of the community. Both Szoka and Foley demonstrate those qualities every day and work to bestow them in everyone they come into contact with the Credit Union.

We salute all our community health care workers serving the hospitals and medical clinics, along with the work, commitment and dedication of businesses like Bragg Mutual Federal Credit Union and people like Foley and the staff of the credit union. Our community is made better because of their presence and support. The same can be said for Cape Fear Valley Health Foundation and the McLawhorns of The Vine / Two Brothers Catering company. No doubt, heroes work here in Fayetteville and Cumberland County.

Want to give back time, money or words of encouragement?

Bragg Mutual Federal Credit Union: www.braggmutual.orgSteve Foley, CEO: sfoley@braggmutual.org

The Vine/Two Brothers Catering: 910-584-9892

Brad McLawhorn: twobrotherscatering06@gmail.com

Kelley McLawhorn: twobrotherscatering06@gmail.com

Cape Fear Valley Health Foundation: www.cfvfoundation.org/

Marge Betley, Major Gifts Officer: mbetley@capefearvalley.com 910-615-1358

VA Medical Center: 910-488-2120