Paratroopers who rapidly deployed to the Middle East at the beginning of the year in response to growing tensions with Iran have gotten the green light to come back home.
"I'm excited to tell you that their redeploy-ment has been approved, and they will begin their journey home in the next several weeks," said Maj. Gen. James Mingus, commander of the 82nd Airborne Division, in a message posted on Twitter.
"The paratroopers and our families have had a historic deployment," Col. Andrew Saslav, the brigade commander, said in a Facebook video. Seven hundred fifty soldiers with the Immediate Response Force started deploying New Year's Eve in response to an attack on the American embassy in Baghdad. All tolled, 3,500 paratroopers of the 1st Brigade Combat Team deployed at the beginning of the year. Near the end of February, 800 of them had returned to Fort Bragg, but because of continued tensions in the region, the rest of the brigade had been unable to. Mingus' message said that soldiers would need to quarantine for 14 days upon returning home. No paratroopers have tested positive for COVID-19. He added that soldiers would be able to quarantine at home.
Local highway construction delayed
The North Carolina Department of Transpor-tation is pumping the brakes on major pro-jects in the year ahead. A news release from DOT states that as people across North Carolina take measures to stop the spread of COVID-19, traffic volumes and car sales have plummeted, causing a $300 million budget shortfall this fiscal year, which ends June 30. Because NCDOT revenue is fully funded through the Motor Fuels Tax, Highway Use Tax and DMV fees, all but about 50 major projects scheduled to start in the next 12 months are being delayed, the release said. A segment of the future I-295 in Cumberland County from Raeford Road to Camden Road, which is not yet under contract, has been delayed until August 2022. An I-95 eight-lane widening project in Harnett and Johnston counties has been delayed until July of next year. DOT spokesman Andrew Barksdale said the proposed interstate widening project through Fayetteville will not be delayed.
"That particular contract will not change, no work is suspended. We'll continue to fund it," he said.
The Raeford Road median project and road-way upgrade has been delayed until February 2022.
The Army solves the face protection issue
Four-ply microfiber cloth is the best material to use for homemade face coverings to protect against COVID-19. Army researchers at the service's Chemical Biological Center said in a news release that microfiber cloth filters out 75% of problem-causing particles. The material can be found in the cleaning sections of most big stores. The N-95 mask is able to filter out 90% of particles, the Army said.
"The challenge is to pick a material that effectively blocks the virus particles from going through the material while not being too hard to breathe through," said David Caretti, chief of the Chemical Biological Center's protection and decontamination division.
Researchers determined microfiber does well after testing more than 50 materials. Salt particles used to test the filter were about the same size as coronavirus microns.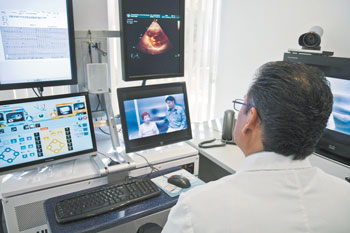 Hospital system wins $50K grant
Cape Fear Valley Health System's Medical Foundation has received a $50,386 grant from Truist Financial Corporation to buy telemedicine equipment needed to help treat COVID-19 patients. The grant is part of the financial service company's Truist Cares initiative. The firm announced a $25 million philanthropic pledge in March to support basic needs, medical supplies and financial hardship relief due to COVID-19. The new telemedicine equipment will allow the Cape Fear Valley Health System's hospitals and outpatient clinics to provide remote patient health assessments and care.
"Telemedicine has become essential in reaching all of our patients at a time when we have to adjust the way we care for people," Cape Fear Valley CEO Mike Nagowski said.
"Hospitals and health systems are having to rethink their approach to patient care during this challenging time," said Phil Marion, Eastern North Carolina regional president for Truist. "Cape Fear Valley is delivering critical services to more members of our community through telemedicine, and we are proud to support them in this effort."
Twenty-year-old cold case solved
The Fayetteville Police Department's Cold Case Sexual Assault Unit have arrested two men in connection with a rape which occurred in February 1990. Jack Blackwell, Sr., 59, of Fayetteville and Bruce Wayne Miller, 56, of Spring Lake have been charged with first-degree rape and common law robbery.
The victim told police she was staying at a local motel in the 2300 block of Gillespie St. and was sexually assaulted and robbed of her belongings. Blackwell has been jailed under $50,000 secured bond. Miller is incarcerated in at the Federal Correctional Institution in Sumterville, Florida, on charges stemming from the robbery of a convenience store. The initial 1990 investigation went unsolved, but the rape kit from this case was recently tested.
A Federal Bureau of Justice Assistance grant has funded updates of older investigations, and Blackwell was identified as a suspect. City police encourage anyone with information concerning a sexual assault case to contact the Fayetteville Police Department's Special Victim's Unit at 910-433-1851 or Crimestoppers at 910-483-TIPS (8477).