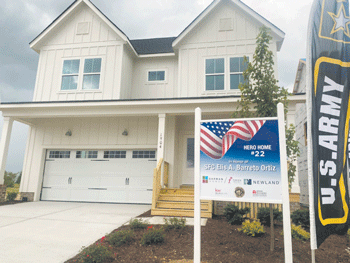 The family of a fallen 82nd Airborne Division Paratrooper got the keys to their new 'Hero Home' on Veterans Day. Operation Coming Home unveiled the new house in Wake County earlier for the family of the late Sgt. 1st Class Elis Angel Barreto Ortiz of Morovis, Puerto Rico.
He was killed during combat operations September 5, 2019, in Kabul, Afghanistan. Barreto's widow and young children moved into the house Nov. 11 during a ceremony presented by Operation Coming Home and other organizations which built the home in Wendell for the family.
"We are proud of him and his sacrifice," said Barreto's widow Legna Aponte.
"This house means hope, it's healing and it's an honor because it's built because of my husband."
Sgt. 1st Class Barreto was considered a hero by his compatriots. One of the soldiers who served with him in Afghanistan called him a great leader. "It was my first deployment, and I just built a relationship with him," said Domenic Canzano. "It's heartbreaking."