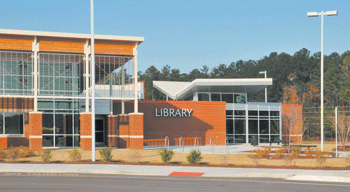 The Cumberland County Public Library system is preparing for some fun this winter with its annual Winter Reading and Activity Program or WRAP which launched Dec. 1 and goes through Jan. 31. All eight library branches give customers opportunities to win prizes for reading or participating in reading-related activities.
While the libraries remain closed to the public because of COVID-19 precautions, residents can pick up program materials at the front of the libraries during business hours. WRAP uses Facebook, Instagram and YouTube for programming, including videos and interactive virtual events. A calendar of events is available at co.cumberland.nc.us/departments/library/events-calendar.
North Regional Library customer Julia Furman depends on curbside pick-up to help supplement her 6-year-old twins' learning at home. With assistance from Youth Services Library Associate Robin McKoy, Furman checks out about 150 books every two weeks.
"The resources are endless, and the customer service is phenomenal—there's nothing like it," Furman said.
"The WRAP program is a perfect starting point if you have never used the Cumberland County Public Library," said McKoy. "Public Libraries are a gift," said Furman. "They offer the opportunity for endless learning and growth for all ages."