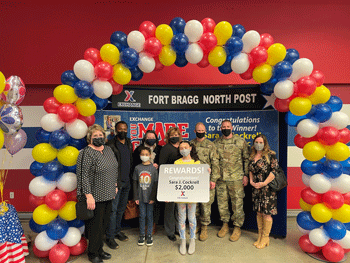 Sara Cockrell, a Max Abbott Middle School student from Fayetteville won a $2,000 Army & Air Force Exchange Services gift card, the first-place prize in the Exchange's worldwide "You Made the Grade" sweepstakes.
The Exchange, a military retail store, presented the gift card to the seventh grader on Jan. 29, her thirteenth birthday, at the North Post Exchange located on Fort Bragg.
"I am very excited, I was like how much again and my mom said '$2,000' and I said 'no, it can't be that much,'" Cockrell said. "I wouldn't have expected the $2000, I wouldn't have thought I was being rewarded for having good grades."
Sara was selected from amongst 500 high-achieving military students from all over the world who qualified for the sweepstakes by maintaining a B average or higher.
We are so happy on her behalf and she's such a hard worker in school, so she really deserves it, Sue Cockrell, Sara's mother said.
Students with qualifying grades are encouraged to enter the sweepstakes to win a $2,000, $1,500 or $500 Exchange gift card.
Cockrell said she will be using the money to buy an iPad for herself that she had been saving up for since the summer, to draw on and play Roblox on.
"She always does her homework, I don't have to ask her to do it, I have had no issues with her during virtual learning, which she's done all year," Sue Cockrell said. "She gets up in the morning, she's very self-motivated."
Cockrell was presented with her prize by the Exchange's manager Amanda Hartfield, general manager for Fort Bragg Exchange, and the retail team at the Exchange that sang "Happy Birthday" for her and presented her with a cake.
In attendance to congratulate Cockrell were Fort Bragg Garrison Commander Col. Scott Pence, Fort Bragg Garrison Command Sgt. Maj. Jeffrey Loehr and Max Abbott Middle School Principal Carla Crenshaw.
"Sara is a wonderful young lady, she works very hard, she's one of those students that teachers love to have in class, she helps others and she's kind," Crenshaw said. "I am so very proud of her."
Pictured: Sara Cockrell, a seventh grader at Max Abbott Middle School, won the Army & Air Force Exchange Services worldwide "You Made the Grade" sweepstakes.