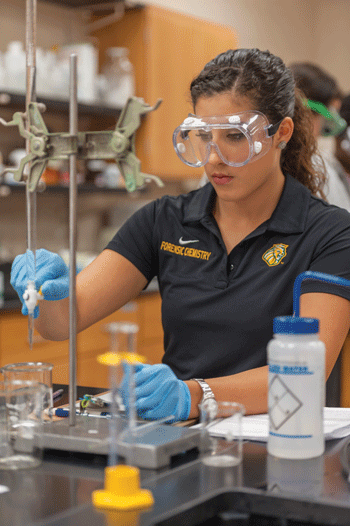 Because Methodist University is a private, liberal arts school that receives top-tier rankings every year, some may believe the cost of attending one of the premier schools in North Carolina is out of their range. But MU is unique not just in its excellence, but also in its value.
While MU graduates rank among the highest in the state for employment soon after graduation and salary earned, nearly 100% of MU students receive financial aid that makes the cost to attend less than the national average. It's the high-level degrees that lead to employment and advancement in careers, at a price competitive with the big-box schools.
"At MU, students are taught by faculty with doctorates, and classes have an impressive 12-to-1 student-to-faculty ratio that few in the entire region can match," said Rick Lowe, vice president for Enrollment Services at MU. "Combine that with an average financial-aid package of more than $30,000 for residential students, and it's easy to see why Methodist University is unique."
Financial aid packages at Methodist can include federal aid money and there are more than 150 institutional scholarships.
"These financial-aid opportunities allow us to deliver a highly competitive net price and enables our students to attend a university with top-tier programs that deliver exceptional quality and value. You're not just a number at MU, and you receive a well-rounded education that expands your career opportunities now and in the future," Lowe said.
Methodist University, which also has a campus at Fort Bragg, accepts the GI Bill, which members of the U.S. military, veterans, and their families receive as a benefit for their service. The GI Bill isn't factored in the average financial-aid package, so it can lower the cost of education at MU even more.
With this cost comes classrooms run by motivated professors who often practiced in their fields before joining the faculty at MU. These professors bring a wealth of experiential knowledge as well as connections in the working world. While students are learning under the tutelage of expert professors, the staff in MU's Career Services Office connects them with resources to help them find not just a job, but
a career.
"We offer our students a very unique experience," said Taylor Vann, a counselor in the Career Services Office. "We work with our students to create a career management plan that meets the needs of their personal and professional goals. We discuss trends and labor market information related to their career interests, along with what skills and experiences will make them competitive in today's global workforce."
These efforts, coupled with advanced work in the classroom, is why more than 90% of May 2020 MU alumni reported that they landed a job, or were
pursuing a higher degree, within six months of graduation.
"Through Career Services and their local connections in the community, I was able to have a paid internship at a local environmental lab in Fayetteville," said Nicole Hardin Wildeboer, a graduate of MU's Chemistry/Forensic Science program. "This internship solidified that the lab setting was what I desired, while also allowing me to gain the hands-on job experience that would make me a more qualified applicant for whatever job I applied for next."
Wildeboer now works as a forensic scientist in the Trace Evidence Department of the South Carolina Law Enforcement Division. "My Chemistry advisor and a couple Forensic Science and Criminal Justice professors have proved to be a very helpful resource for me, even after graduation," she said. "Their desire to see me succeed was apparent throughout my four years at Methodist and has continued on, even after graduation."
Wildeboer's story is one of many proving the value of an MU degree. Graduates have gone on to work at multinational companies such as Merrill Lynch, Marriott Hotels, the NFL Players Association, Johnson & Johnson, Goodyear, the Smithsonian, General Mills, Microsoft and NASA.
In addition, Methodist is not only affordable and successful in placing graduates in careers, but also accessible. MU's 617-acre main campus is home to state-of-the-art learning facilities, an 18-hole private golf course for students, athletic facilities for 20 NCAA sports, and more.
Methodist University serves a wide range of students, from traditional students and working adults, to active members of our military and their families. For anyone seeking excellence and value, MU is an obvious choice.
For more information about Methodist University, visit methodist.edu or contact the admissions office at 800-488-7110.