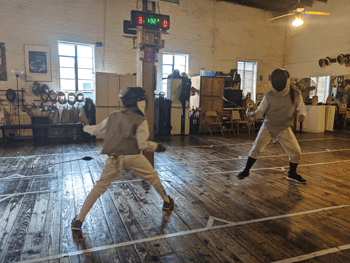 Fencers from the All-American Fencing Academy took gold medals in all events in an April 24 tournament with Greensboro Fencing Academy. It was the first multi-club tournament since last April when the pandemic forced closures and restrictions.
After nearly a year with a mixture of virtual classes and in-house tournaments, the All-American Fencing Academy's fencers got their first challenge and an opportunity to gauge their progress against a tough fencing club. Three events were contested during the weekend tournament: youth mixed foil, men's foil and women's foil.
In the youth foil, Fayetteville fencer Atticus Conlin went undefeated in the pool rounds while teammate Max Greene placed 2nd after the pools. Emery Alexander from Greensboro was close behind seeding 3rd after the pools.
Greene was able to defeat Alexander in the semi-final round which pitted him against Conlin in the gold medal round. During their last tournament, Conlin was undefeated in the pools and elimination rounds, eventually defeating Greene. However, during this tournament, Greene jumped to an early lead in the finals and was able to maintain it and defeat Conlin 10-6 earning Greene his first gold medal.
In the women's foil, All-American Fencing Academy fielded 4 fencers against Greensboro's 5 fencers. Fayetteville fencer Isabelle Guevarra went undefeated against 8 other fencers, only giving up 12 touches in the pool round. Mackie Hinds from Greensboro took second coming out of the pool round.
Fayetteville fencer Gianna Megill competed in her first tournament since she began fencing three months ago. She had an astounding performance in the pool, winning 3 out of 8 bouts.
In the elimination rounds, 1st and 2nd seeds Guevarra and Hinds continued their march to the gold medal round where Guevarra defeated Hinds 15-6. All-American Fencing Academy team member Elinor Morkos tied for 3rd during the tournament.
"Elinor has been very consistent, and you see her utilizing many of the tactics and drills we work on in class and it has been successful for her," said All-American Fencing Academy head coach Gerhard Guevarra. "She has been working hard and persistent on training well."
"This is Isabelle's first year in the senior events having graduated from the youth USA Fencing category," Coach Guevarra said. "She was looking forward to earning her first national rating before the pandemic halted all national events at the beginning of the fall 2020 competitive season."
In the men's foil event, All-American Fencing Academy fielded 6 fencers, once again overshadowed by Greensboro's 9 fencers. The men's foil competition was divided into 3 pools of five fencers where All-American Fencing Academy teammates Gabriel Guevarra and Bruce McRae placed 1st and undefeated in their respective pools while Greensboro's Arlo Leake took 1st in the 3rd pool.
New All-American Fencing Academy fencer Weston Black earned 2 wins in his pool in his first tournament after starting fencing only two
months ago.
In the elimination rounds, 5th seed Leo Hinds from Greensboro upset Fayetteville fencer Daniel Johnson, who was 4th seed. There was another upset in the first round where Greensboro teammates Matthew Clark in 14th seed defeated 3rd seed Arlo Clark, giving 6th seed All-American Fencer Colton Culliton a window of opportunity to continue to the semi-final round. Culliton defeated Clark 15-11 to face teammate Gabriel Guevarra in the final four.
1st and 2nd seed McRae and Gabriel Guevarra went unimpeded in the elimination rounds and faced each other in the gold medal round where Guevarra took the win 15-9.
Seniors headed to college
All-American Fencing Academy seniors Sabrina Krupenko, Bruce McRae and Holden McNeil have all been accepted to the University of North Carolina at Chapel Hill for the fall and will all be trying out for the Division 1 NCAA Varsity Fencing Team. Seniors Gabriel Guevarra and Kaitlyn Gerow have been accepted to East Carolina University and intend to continue fencing at the university club.
Beginner Fencing Camp
The All-American Fencing Academy will be hosting its annual Beginner Summer Fencing Camp for students between the ages of 7-12 and teens. The Camp will be from June 18-20 at the Academy in downtown Fayetteville. For more information about the Camp visit www.allamericanfencing.com.
A growing sport and a growing club
The sport of fencing is growing world-wide. In an historically European dominated sport, U.S. teams have consistently been present on the world stage. In the 2021 Olympics in Tokyo, fencing will have a full medal count for the first time with 6 individual medals and 6 team medals.
For those interested in trying their hand at the sport, the All-American Fencing Academy hosts a walk-in class for beginners during Fourth Friday events downtown. The Academy is located at 207 B Donaldson St. The Academy instructs and trains recreational and competitive fencers starting at age 7, teens, adults and veterans ages 40+. Its fencers compete regionally and nationally. Coaches include former World Cup and NCAA fencers.
For more information about the All-American Fencing Academy and its classes, please call 910-644-0137, e-mail info@allamericanfencing.com or visit www.allamericanfencing.com.
Pictured Above: Fayettevile fencer Max Greene (left) faces Greensboro's Emery Alexander in the youth foil competition. Greene advanced to the finals and won his first golden metal. (Photo courtesy All-American Fencing Academy).