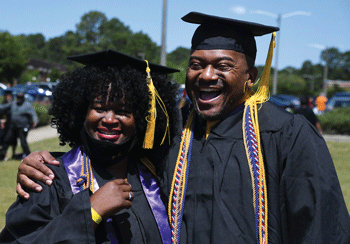 Fayetteville Technical Community College held its 59th Annual Commencement exercises outdoors on its Fayetteville campus May 14. The event marked a return to in-person commencement exercises. Because of the COVID-19 pandemic, the College held a virtual graduation in 2020. The easing of constraints made it possible for FTCC to hold in-person ceremonies this year even as safety protocols were observed.
For the first time, the College held its commencement exercises on its Fayetteville campus, under large open-air tents. Three separate ceremonies were held simultaneously in three locations on campus to allow for social distancing. Graduates were under the tents. Family and friends watched from outside. The ceremonies were also streamed live and recorded for later viewing.
More than 600 graduates participated in the in-person ceremonies. All 1,970 of the College's 2021 graduates were included in a virtual ceremony that premiered on May 15.
The keynote speakers at this year's ceremonies included the Hon. Robert Wilkie, former Secretary of Veterans Affairs; Dr. Mark Sorrells, FTCC's Senior Vice President of Academic and Student Services; and Dr. Murtis Worth, the College's Dean of Nursing. Wilkie, a native of Fayetteville and a graduate of Reid Ross High School, was also the keynote speaker for the College's virtual graduation ceremony.
Wilkie told graduates that he had watched FTCC grow from a small technical college into "a wonderful institution dedicated to the human spirit." He said education is a gift that can transform a person's life. He urged graduates to use that gift to find and pursue their passion.
"Remember what you're passionate about, what will make you get up every day for the rest of your life," he said. "Whatever you're lacking in optimism, remember your special responsibility because of where you are, and what you've been granted. To hold up those who don't fall to cynicism and to hold up those who see a world not as it is, but as it should be. So, be passionate."
FTCC President Dr. J. Larry Keen visited each ceremony. At Tent B, taking place on the front lawn of the Tony Rand Student Center, Keen told graduates success is not a destination, but a journey.
"Please don't stop here today, and say you made it," he said. "But understand the real joy is in the journey. Take what you've learned, apply it and experience joy with every step that you take because it takes you to better fulfillment of life and the things you do. Every single person has purpose, has an opportunity, a series of opportunities to
do well."
FTCC's 2021 graduates earned a total 3,926 associate degrees, diplomas and certificates from 280 curriculum programs in these areas: Allied Health Technologies, Arts and Humanities, Business, Computer & Information Technology, Engineering and Applied Technology, Math and Sciences, Nursing, and Public Service.
In addition, 76 students graduated from the College's Adult High School program and 43 students graduated from the High School Equivalency program.
Pictured Above: Keynote speakers encpuraged graduates to remain passionate about their goals. (Above Photo by Natasha Brown)