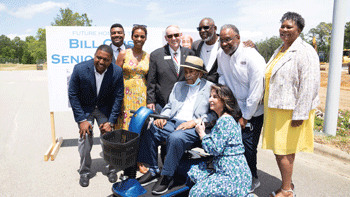 The man outwardly most admired by his colleagues on the Fayetteville City Council has been laid to rest. Six-term Councilman Bill Crisp died last week at the age of 81. Crisp was first elected in November 2007, to represent District 6 in west Fayetteville. He served for 12 years and chose to retire in 2019.
"He was a true role model and a servant to his country and his community," said Mayor Mitch Colvin. Crisp was arguably closest in city government to District 1 council member Kathy Jensen who currently serves as mayor pro-tem. "God took away my daddy 20 some years ago but he gave me Bill Crisp," Jensen said at the recent ground-breaking of the west Fayetteville senior center which was named in Crisp's honor. City flags at City Hall, Fayetteville fire stations and recreation centers were lowered to half-staff as a tribute to Crisp's service.
Crisp served in the U.S. Army for 27 years and retired as a command sergeant major. He was married to his childhood sweetheart, Joan Boyd Crisp, for 61 years. They met in elementary school and raised four children, William L., Sylvia D., and twins Sonja E. and Winston B.
Pictured above: Bill Crisp is surrounded by members of the City Council in this file photo from the groundbreaking ceremony of a new senior center named in his honor. (Photo courtesy City of Fayetteville)