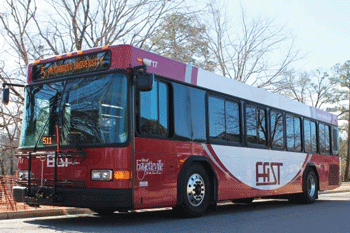 The Fayetteville Area System of Transit wants to improve the benefits of bus operators who are among the lowest paid city workers.
"Most drivers are paid $15.52 an hour and up to $18 an hour depending on seniority," said Transit Director Randy Hume in an interview last year. Hume said pay increases are necessary to get people to take bus driving jobs.
FAST recently donated a city bus to Fayetteville Technical Community College for the school's new commercial driver's license training program.
The city's FY2022 budget includes money to provide scholarships for FTCC students who commit to driving for FAST when they complete the academic program. The city will also pay trainees while in class.
The bus turnover ceremony was held July 27 at the FAST Transit Center on Franklin Street.
The 200-hour class B CDL training program with passenger endorsement is expected to begin in September.
For information about the program, contact FTCC CDL Driving Instructor Eric Smith at 910-486-3909 or smither@faytechcc.edu.