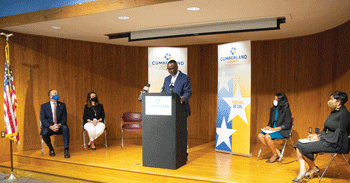 Cumberland County leaders conducted a press conference Aug. 6 with health officials to encourage residents to get a COVID-19 vaccination and to continue to mask-up due to the Delta variant and the 837 new COVID-19 cases in the county over the previous seven days.
"The best protection against this virus is the vaccine and I encourage everyone to get vaccinated," said Cumberland County Board of Commissioners Chairman Charles Evans.
Dr. Jennifer Green, Cumberland County Public Health Director, said the COVID-19 Delta variant is much more contagious than the original strand. She added that the COVID-19 positive infection rate is currently above 15% and hospitalizations are increasing. The percent positive needs to be closer to 5% for everyone's safety according to the World Health Organization.
"I know the frustration among the vaccinated is growing with the unvaccinated, I ask you take that frustration and turn it into conversation," Green said. "I know that conversations with your friends and family will make a difference."
At the height of the COVID-19 outbreak in January, Cape Fear Valley Medical Center had approximately 130 people admitted to the hospital, according to Mike Nagowski, Chief Executive Officer for Cape Fear Valley Health System. As vaccines started to be administered, that number had a downward trend to 14 people who were COVID positive.
"In the last six weeks, as the Delta variant has taken hold … we now have 89 people who are COVID positive in our hospital. Almost every single person in the hospital is unvaccinated," said Nagowski, who described the Delta variant as "like the original COVID on steroids."
The medical center is seeing younger patients. "The people dying today are far different than those who were dying in the beginning of the pandemic," Nagowski said.
Cumberland County Schools will return on Aug. 23 for in-person learning for traditional calendar schools. According to Cumberland County Schools Director of Health Services Shirley Bolden, the top priority for the school year is to operate in-person learning all year long as safely as possible.
"In keeping with the recommendation of the local, state and national health officials, Cumberland County Schools Superintendent Dr. Marvin Connolly plans to recommend to the Board of Education universal masking for all students and staff at the beginning of the 2021-22 school year. This would be for all pre-K through 12th-grade students and staff, regardless of their vaccination status," Bolden said.
This action is intended to reduce the number of students needing to quarantine in the event of an exposure. "We believe that universal masking can help prevent the spread of COVID-19 in the school setting," she said.
In addition to universal masking, the goal is to maintain social distancing of 3 feet between students and 6 feet between staff. CCS is also encouraging those who are not vaccinated to do so now to slow the spread of the virus.
"Thanks to federal funding, COVID-19 testing will also be available and will provide one more layer of protection to help keep students and staff safe," Bolden said.
Clinics will be held at Cumberland County Public Library locations on Saturdays in August from 10 a.m. – 4 p.m. Appointments are not needed.
Aug. 14 at Hope Mills Library
Aug. 21 at East Regional Library
Aug. 28 at Spring Lake Regional Library
The Department of Public Health, 1235 Ramsey St., offers the vaccine weekdays from 9 a.m. – 4 p.m. Pfizer and J&J vaccinations are available by appointment or walk-ins will be accepted.
View the COVID-19 vaccination calendar and make an appointment at cumberlandcountync.gov/covid19.
Pictured above: Chairman Charles Evans speaks at a press conference Aug. 6. (Photo courtesy Cumberland County)