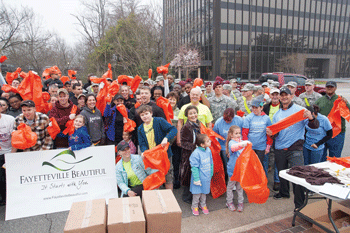 On Sept. 18, community cleanups will take place in Fayetteville, Hope Mills, Spring Lake and unincorporated areas of Cumberland County. The goal is to combat health, environmental and economic harm caused by litter.
At the Fayetteville Beautiful cleanup, volunteers will be given free t-shirts and other giveaways. You can choose to clean around your school, street, church or other faith organization, or right in front of your home. Cleanup teams can enter a photo contest for a chance to win milkshakes for every team member, donated by Duck Donuts.
Fayetteville Beautiful is organized by the city of Fayetteville and the nonprofit Sustainable Sandhills. It is a bi-annual city-wide cleanup, held to raise awareness about litter prevention and help residents take pride in their city and neighborhoods. In Fayetteville, litter has been measured at a 14-year high, and litter crews pick up more than two tons of litter each week.
Litter is not only harmful to wildlife, but it is costly for businesses and city litter crews to clean up. It can also lower property values by around 7%. Wind and rain can also wash litter into and pollute waterways such as the Cape Fear River, which is a source for drinking water.
On Sept. 18, Fayetteville Beautiful volunteer team leaders can pick up supplies in front of Segra Stadium between 8 and 10 a.m., and then join their team to clean up the area they are registered for. Volunteer registration and more details are available at fayettevillebeautiful.com. All cleanup supplies will be provided.
Fayetteville City Council Member Yvonne Kinston is one of the event organizers. "Sign up online now to participate in this wonderful event," Kinston said. "Clean up with friends and relatives or do this yourself to show that you care about the place we call home. The big win is that we're helping ourselves, our futures and the earth. I challenge you to show up in a big way."
"We want to go beyond cleaning up litter, and also convince people not to litter in the first place," says Jonelle Kimbrough, executive director of Sustainable Sandhills.
Kimbrough hopes that large community cleanups like Fayetteville Beautiful can help bring awareness to the problem and reach people with the message to not litter.
"Reducing disposables is also part of the solution," says Kimbrough. "That's why it's so important to use reusable water bottles, coffee cups, and grocery bags."
Fayetteville Beautiful partners include Duck Donuts, Beasley Media, Fayetteville Public Works Commission, the Rotary Club of Fayetteville, 4imprint, the Fayetteville Woodpeckers, Dunkin' Donuts, Biscuitville, Starbucks, Lidl and Navy Federal.
Pictured above: Volunteer registration and details on how to sign up for the Sept. 18 cleanup event in Cumberland County are available at fayettevillebeautiful.com. (Photo of previous cleanup courtesy Sustainable Sandhills)