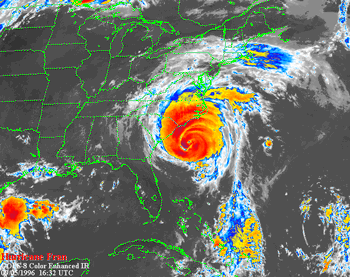 This month is the 25th anniversary of Hurricane Fran, the 3rd most powerful storm to strike North Carolina since record keeping began. In 1954, Hurricane Hazel set the standard by which others have been compared.
Hurricane Fran formed from a tropical wave that emerged from the west coast of Africa in mid-August of 1996. In early September, the category 3 hurricane struck North Carolina near Cape Fear. The Tar Heel state got the worst of the storm, and therefore experienced the worst of the damage.
The highest wind gust of 137 mph occurred at Wilmington. The Kure Beach Pier was destroyed along with the Emerald Isle fishing pier. Storm surge in North Topsail Beach created a 100-foot-wide inlet. Swansboro and New Bern experienced 10 feet of storm surge, causing many waterfront businesses to be destroyed.
Fran remained at hurricane strength as it moved inland. The eye of the storm passed over Clinton, 30 miles east of Fayetteville. Raleigh and Fayetteville each reported wind gusts of up to 79 mph.
According to Associated Press reports, Fran was responsible for 37 deaths. Most of the deaths were caused by flash flooding in the Carolinas, Virginia, West Virginia and Pennsylvania. Of those deaths, 21were in North Carolina. Wind damage and power outages were widespread. Rainfall exceeding 7 inches caused flooding along the Cape Fear River. Fran caused an estimated $2.4 billion in damage in 1996 dollars, or about $3.65 billion today.