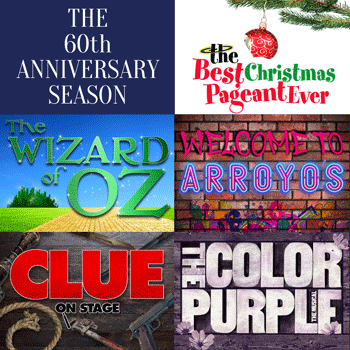 Cape Fear Regional Theatre is resuming a near-normal schedule of activities in the 2021-2022 production year. Professional theatre performances and a variety of educational and outreach initiatives are programmed thanks in part to a $250,000 grant from the Arts Council of Fayetteville/Cumberland County. Ticket sales account for less than 40% of CFRT's funding.
"We are deeply grateful to the Arts Council for its incredible financial support; this funding is essential to our operations and enables us to produce high-quality productions and enriching education programs," said Ella Wrenn, CFRT's Managing Director.
CFRT is committed to presenting an annual series of plays, performances and special events. Marketing Director Ashley Nicholl Owen says since 1962, CFRT has strived to tell the stories that resonate with all members of our diverse community and be a place for the entire community to come together to laugh harder, think deeper, share experiences, and grow as a community.
CFRT is a three-story complex in the heart of Haymount. It has a 300-seat main stage and contracts actors, writers and designers from throughout the country. CFRT's six-show season and education programs serve over 49,000 audience members of all ages and varying socioeconomic and ethnic backgrounds including nearly 22,000 school students.
Mainstage productions will resume in the 2021-22 season in a new, fully renovated auditorium. Patrons will enjoy deeper rows of seats, wider chairs, improved accessibility, a custom sound system and a new, fresh-air heating, ventilation and air conditioning system.
The theatre's 60th Anniversary will be highlighted in December with a production of "The Best Christmas Pageant Ever." The season will also feature "The Wizard of Oz" in January of 2022, "Welcome to Arroyo's" in March, "Clue" in April, and "The Color Purple" in May and June.
"Since the onset of COVID-19, CFRT has adapted to the changing health landscape to create safe and innovative ways to serve our community," added CFRT Artistic Director Mary Catherine Burke. "We look forward to another season of collaboration with the Arts Council as we continue to serve the community with award-winning productions and nationally recognized education initiatives."
CFRT notes that it made the most of unique and changing circumstances throughout the pandemic to include education programs and outdoor/open-air theatre productions. Enrollment in CFRT's Winter Studio classes grew by 89% over the previous year.
"Cultural Organization Resource Grants support the backbone art organizations of Cumberland County," said Bob Pinson, Interim President and CEO of the Arts Council of Fayetteville/Cumberland County. "The Arts Council is proud to partner with Cape Fear Regional Theatre as a C.O.R.E Grantee."
In the fiscal year 2020-21, the Arts Council distributed $1.1M in grant funds and allocations to Cumberland County arts and culture nonprofit organizations, artists and municipalities. The Arts Council's grants, programs and services are funded in part through contributions from the City of Fayetteville, Cumberland County and the N.C. Arts Council.