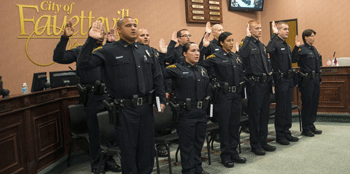 The Fayetteville Police Department is having to deal with a 14% officer vacancy rate. A 10% rate has been common in recent years.
"We have 59 vacant sworn full-time officer positions," police spokesman Sgt. Jeremy Glass said.
The FPD's authorized strength is 433 officers. A new pay scale for the police may help the recruiting process. The starting wage has been increased to $41,000 from $34,000.
An education incentive of $3,000 is available to officers with bachelor's degrees. Hiring incentives are also helping. Certified officers from other agencies who join the FPD receive $10,000 lateral entry bonuses.
"Our recruiting unit is working diligently to recruit quality applicants for our upcoming December BLET [Basic Law Eenforcement Training] academy," Glass added.
The shortage of street cops hasn't reduced service.
"Our response times are within our goal, so we have not seen any significant reduction in our quality-of-service times."
Police Chief Gina Hawkins instituted 12-hour patrol shifts which keeps more officers on duty to offset the personal shortage.