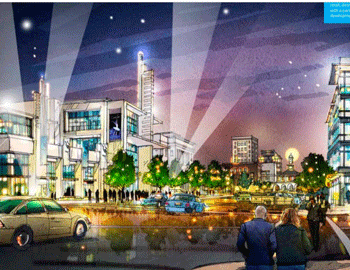 Cumberland County came one step closer on Monday to getting construction on a multi-purpose event center started.
The Board of Commissioners voted in the form of a resolution to establish a capital project budget for the center, and in an affiliated motion to hire a firm to represent the county in all its duties and responsibilities in getting the more than $80 million center built.
The county voted to contract with MBP Carolinas for "owner's representative services" for $2.2 million. A Board of Commissioners' committee, earlier this year recommended contracting with MBP Carolinas for owner's representation services, but the county wanted to strengthen some of the agreements within the proposed contract before voting to accept the contract at today's meeting.
County Manager Amy Cannon told the board that having an owner's representative is a new approach to government construction and should speed up the construction of the facility. She made those comments after Commissioner Michael Boose complained that government construction projects take too long to complete. The multi-event center is due for completion in the fall of 2025.
As an owner's representative, MBP Carolinas will be involved in developing a budget for the project, updating the board and the public on the project, hiring a construction manager and site analysis basically working with the county from inception to completion of the facility, Cannon said.
In other action, the board agreed to sell a number of county-owned properties, some of which were acquired through foreclosure sales.
The board approved the sale of ten parcels for a total of $36,369.85. However, some board members balked after realizing that the sales were well below the actual tax value, which totaled $86,001. The county attorney said the offers and acceptances are in keeping with current county policy. Board member Jimmy Keefe, however, convinced his fellow board members to take off the agenda for approval one parcel of the property consisting of 12 acres adjacent to the Cape Fear River until county staff and board members can more thoroughly review and familiarize themselves with the surplus property sale policy. The proposed sale of the property was for $14,368.98 and had a tax value of $62,000.