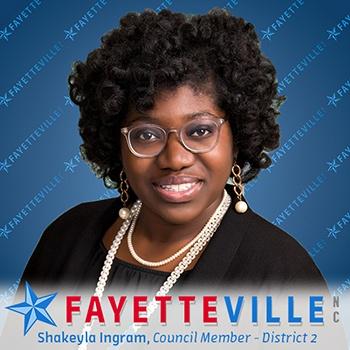 City Councilwoman Shakeyla Ingram, running for her second term in office, held off former Councilman Tyrone Williams in Tuesday's election for the District 2 seat on the Fayetteville City Council, according to unofficial results.
Ingram received 749 votes and Williams received 653, according to unofficial results from the N.C. State Board of Elections.
There were 144 write-in votes, according to the state tally.
Ingram said Tuesday night that she does not know what the difference in the race was.
"But what I do know is I went in this race saying I would focus on this race and this race only. I stayed true to that," she said. "I served in the pandemic and social unrest in my term. Maybe that was what it was. I'm grateful through it all. …
"It was in the voters' hands, and I understood that," she added. "The voters stated what they wanted."
Both candidates grew up living in the district.
Ingram, 31, works in marketing and community relations
Williams, 53, was a member of the City Council in 2018 for a partial term. He resigned roughly two months after allegations emerged that he tried to solicit money from a developer. At the time he left office, Williams blamed local media for false accusations. Williams also blamed his former wife for falsely accusing him of molesting a 10-year-old boy.
On Oct. 21, 2019, court records show, Williams entered into a conditional discharge on a charge of assault on a child under 12, a misdemeanor, and received 30 months of unsupervised probation, which came with specific conditions he was ordered to follow if he were to have the charges later dismissed.
Cumberland County Court records show that Williams did not meet those conditions.
On April 4 of this year, a judge revoked the conditional discharge and Williams was convicted on a misdemeanor charge of assault on a child under age 12. He was sentenced to 60 days suspended for 12 months and placed on supervised probation, according to court records.
Williams is a real estate developer and Navy veteran. He could not immediately be reached for comment Tuesday night.